NEW CS CIRCULATION BOOKS
*EVALUATE ONLINE! Click the title to go directly to the book's link
Java in two semesters, 2nd ed. [With CD-ROM]

| | |
| --- | --- |
| Authors | Quentin Charatan & Aaron Kans |
| Place of Publication | Maidenhead, Berkshire |
| Date of Publication | c2006 |
| Publisher | McGraw-Hill Education |
This second edition of the successful textbook, "Java in Two Semesters", provides a comprehensive treatment of object-oriented programming, covering both introductory material and the more advanced topics of a second level course. Thoroughly revised and updated to reflect the latest release of the Java language, the new edition covers the most recent developments in Java programming. Part One presents the key concepts of object-orientation and takes the student from simple programming concepts through to inheritance and HCI. The second part of the book introduces topics such as advanced graphics programming, exceptions, threads, file handling and network programming, and culminates in a final chapter on Java in the context of the current software development environment.Based upon Java 5.0, the book includes topics such as generics, autoboxing and unboxing, a new chapter on network programming as well as a chapter covering the recently updated Java Collections Framework. Program control is covered by two separate chapters, and there is an entire chapter devoted to the implementation of methods. In addition to new technical developments, the book retains frequent examples, extensive end of chapter exercises, unique case study chapters, and offers a free student CD-ROM containing a Java IDE and all essential Java classes from the text.
Recommended by Dr. Henry Adorna
Cell mechanics : from single scale-based models to multiscale modeling

| | |
| --- | --- |
| Editors | Arnaud Chauvière, Luigi Preziosi, and Claude Verdier |
| Place of Publication | Boca Raton, Fla. |
| Date of Publication | c2010 |
| Publisher | Chapman & Hall/CRC |
Ubiquitous and fundamental in cell mechanics, multiscale problems can arise in the growth of tumors, embryogenesis, tissue engineering, and more. Cell Mechanics: From Single Scale-Based Models to Multiscale Modeling brings together new insight and research on mechanical, mathematical, physical, and biological approaches for simulating the behavior of cells, specifically tumor cells. This book collects novel methods to apply to cells and tissues through a multiscale approach. It presents numerous existing tools while stimulating the discovery of new approaches that can lead to more effective and accurate predictions of pathologies.
Recommended by Dr. Susan Festin
Understanding operating systems, 6th ed.

| | |
| --- | --- |
| Authors | Ann McIver McHoes, Ida M. Flynn |
| Place of Publication | Boston |
| Date of Publication | c2011 |
| Publisher | Thomson Course Technology |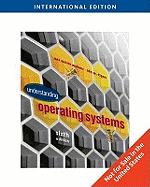 Now in its sixth edition, "Understanding Operating Systems, International Edition" continues to provide a clear and straightforward explanation of operating theory and practice. As in previous editions, the book's highly-regarded structure begins with a discussion of fundamentals before moving on to specific operating systems. This edition has been updated and modernized; now included are enhanced discussions of the latest innovation evolutions (multi-core processing, wireless technologies, PDA and telephone operating systems, and Blu-ray optical storage) and how they affect operating systems. Revised Research Topics in the exercise section encourage independent research among students. Content in the final four chapters has been updated to include information about a few of the latest versions of UNIX (including specific mention of the latest Macintosh OS), Linux, and Windows.
Virtualization and forensics : a digital forensic investigator's guide to virtual environments

| | |
| --- | --- |
| Authors | Diane Barrett, Gregory Kipper technical editor, Samuel Liles |
| Place of Publication | Burlington, Mass. |
| Date of Publication | c2010 |
| Publisher | Syngress/Elsevier |
Virtualization and Forensics offers an in-depth view into the world of virtualized environments and the implications they have on forensic investigations. Part I explains the process of virtualization and the different types of virtualized environments. Part II details how virtualization interacts with the basic forensic process, describing the methods used to find virtualization artifacts in dead and live environments as well as identifying the virtual activities that affect the examination process. Part III address advanced virtualization issues, such as the challenges of virtualized environments, cloud computing, and the future of virtualization. After reading this book, you'll be equipped to conduct investigations in these environments with confidence.
Web 2.0 fundamentals with Ajax, development tools, and mobile platforms [With CD-ROM]

| | |
| --- | --- |
| Authors | Oswald Campesato, Kevin Nilson |
| Place of Publication | Sudbury, Mass. |
| Date of Publication | c2011 |
| Publisher | Jones and Bartlett Publishers |
Designed for a broad spectrum of people with technically diverse backgrounds, this book covers the most recent developments in Web 2.0 programming topics and applications, including up-to-date material on cloud computing, Google AppEngine, Social Networks, Comet, HTML5, semantic technology, and a chapter on the future of the Web. Web 2.0 Fundamentals: With AJAX, Development Tools, and Mobile Platforms prepares readers for more advanced technical topics in Web 2.0. The accompanying CD-ROM and companion website provide code samples from the book and appendices with an extensive set of links for supplemental material and links for the Twitter and Facebook pages.
Where code and content meet : design patterns for Web content management and delivery, personalisation and user participation

| | |
| --- | --- |
| Authors | Andreas Rüping |
| Place of Publication | Chichester, West Sussex, U.K. |
| Date of Publication | c2009 |
| Publisher | Wiley |
Where Code and Content Meet presents a collection of real-world, tried and tested patterns that address content-related aspects of custom software development for advanced Web sites or platforms. Mined from a series of successful Web projects, the patterns represent collected expertise of designers from several software development teams and serve as a practical guide to designing your own content-related custom components for your Web project. The patterns are independent of specific tools and technologies, and focus on non-functional requirements, with the overall goal of defining sustainable software architecture.
Why programs fail : a guide to systematic debugging

| | |
| --- | --- |
| Author | Andreas Zeller |
| Place of Publication | Boston, Mass. |
| Date of Publication | c2006 |
| Publisher | Elsevier/Morgan Kaufmann Heidelberg : dpunkt.verlag |
Why Programs Fail is about bugs in computer programs, how to find them, how to reproduce them, and how to fix them in such a way that they do not occur anymore. This is the first comprehensive book on systematic debugging and covers a wide range of tools and techniques ranging from hands-on observation to fully automated diagnoses, and includes instructions for building automated debuggers. This discussion is built upon a solid theory of how failures occur, rather than relying on seat-of-the-pants techniques, which are of little help with large software systems or to those learning to program. The author, Andreas Zeller, is well known in the programming community for creating the GNU Data Display Debugger (DDD), a tool that visualizes the data structures of a program while it is running.
Recommended by Dr. Adrian Roy Valdez
Kernel methods for remote sensing data analysis

| | |
| --- | --- |
| Editors | Gustavo Camps-Valls, Lorenzo Bruzzone |
| Place of Publication | Chichester, U.K. |
| Date of Publication | c2009 |
| Publisher | Wiley |
Presenting the theoretical foundations of kernel methods (KMs) relevant to the remote sensing domain, this book serves as a practical guide to the design and implementation of these methods. Five distinct parts present state-of-the-art research related to remote sensing based on the recent advances in kernel methods, analysing the related methodological and practical challenges.
Recommended by Dr. Prospero Naval Jr.
Markov random field modeling in image analysis, 3rd ed.

| | |
| --- | --- |
| Author | Stan Z. Li |
| Place of Publication | London |
| Date of Publication | c2009 |
| Publisher | Springer |
Markov random field (MRF) theory provides a basis for modeling contextual constraints in visual processing and interpretation. It enables us to develop optimal vision algorithms systematically when used with optimization principles. This book presents a comprehensive study on the use of MRFs for solving computer vision problems. Various vision models are presented in a unified framework, including image restoration and reconstruction, edge and region segmentation, texture, stereo and motion, object matching and recognition, and pose estimation. This third edition includes the most recent advances and has new and expanded sections on topics such as: Bayesian Network; Discriminative Random Fields; Strong Random Fields; Spatial-Temporal Models; Learning MRF for Classification. This book is an excellent reference for researchers working in computer vision, image processing, statistical pattern recognition and applications of MRFs. It is also suitable as a text for advanced courses in these areas.
Recommended by Dr. Prospero Naval Jr.
Image processing : dealing with texture
(CS 297)
| | |
| --- | --- |
| Authors | Maria Petrou, Pedro García Sevilla |
| Place of Publication | Chichester, England |
| Date of Publication | c2006 |
| Publisher | J. Wiley |
With a wholly practical approach and many worked examples, Image Processing: Dealing with Texture is a comprehensive guide to these techniques, including chapters on mathematical morphology, fractals, Markov random fields, Gabor functions and wavelets. Structured around a series of questions and answers, enabling readers to easily locate information on specific problems, this book also: provides detailed descriptions of methods used to analyse binary as well as grey texture images; presents information on two levels: an easy-to-follow narrative explaining the basics, and an advanced, in-depth study of mathematical theorems and concepts; looks at 'good' and 'bad' image processing practice, with wrongly designed algorithms illustrating 'what not to do'; and includes an accompanying website, setting out all algorithms discussed within the text.