---
CIRCULATION BOOKS
---
Building codes illustrated : a guide to understanding the 2012 international building code, 4th ed.
Recommending faculty: Prof. Cornelo Dizon (CE 199, CE 22, CE 26)

| | |
| --- | --- |
| Authors | Ching, Frank |
| Place of Publication | Hoboken, N.J. |
| Date of Publication | 2012 |
| Publisher | Wiley |
An easy-to-use, updated illustrated guide to the 2012 edition of the International Building Code
This unique reference to the 2012 International Building Code marries the graphic skills of bestselling author Frank Ching with the code expertise of Steven Winkel, FAIA. It pulls out the portions of the building code that are most relevant for the architect and provides an easy-to-understand interpretation in both words and illustrations. Rather than a text-heavy book, this is much more conducive to quick comprehension of the code, presenting information in an exciting user-friendly visual format.Automotive service management : principles into practice.
---
Automobile service management : principles into practice, 2nd ed.
Recommending faculty: Prof. Jennifer Fabular (ME 165)

| | |
| --- | --- |
| Authors | Rezin,  Andrew |
| Place of Publication | Upper Saddle River, N. J. |
| Date of Publication | 2013 |
| Publisher | Pearson |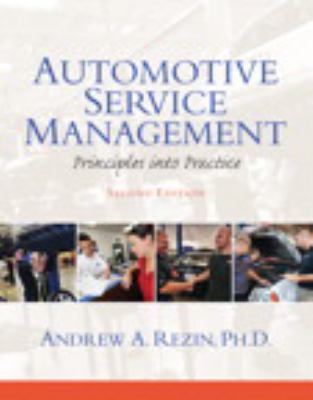 Automotive Service Management: Principles into Practice, Second Edition, provides coverage across a wide range of topics that are critically important in the fast-paced, complex world of automotive service management. Exploring over 30 different topics, the text's conversational tone and real-life examples help reinforce key points and concepts. Designed for those in training to enter the automotive service industry, this text also provides sufficient depth and breadth of content to be a valuable resource to support continuing development for industry service professionals.
---
Medium [or] heavy truck engines : fuel and computerized management systems,4th ed.
Recommending faculty: Prof.  Jennifer Fabular (ME 163)

| | |
| --- | --- |
| Authors | Bennett, Sean |
| Place of Publication | Clifton Park, N.Y. |
| Date of Publication | 2013 |
| Publisher | Delmar |
The most comprehensive guide to highway diesel engines and their management systems available today, MEDIUM/HEAVY DUTY TRUCK ENGINES, FUEL & COMPUTERIZED MANAGEMENT SYSTEMS, Fourth Edition, is a user-friendly resource ideal for aspiring, entry-level, and experienced technicians alike. Coverage includes the full range of diesel engines, from light duty to heavy duty, as well as the most current diesel engine management electronics used in the industry. The extensively updated fourth edition features nine new chapters to reflect industry trends and technology, including a decreased focus on outdated hydro mechanical fuel systems, additional material on diesel electric/hydraulic hybrid technologies, and information on the principles and practices underlying current and proposed ASE and NATEF tasks. With an emphasis on today's computer technology that sets it apart from any other book on the market, this practical, wide-ranging guide helps prepare you for career success in the dynamic field of diesel engine service.
---
Wind energy conversion systems : technology and trends.
Recommending faculty: Prof.  Jennifer Fabular (ME 188)

| | |
| --- | --- |
| Editor | Muyeen, S. M. |
| Place of Publication | London New York |
| Date of Publication | 2012 |
| Publisher | Springer |
Wind Energy Conversion System covers the technological progress of wind energy conversion systems, along with potential future trends. It includes recently developed wind energy conversion systems such as multi-converter operation of variable-speed wind generators, lightning protection schemes, voltage flicker mitigation and prediction schemes for advanced control of wind generators.
Modeling and control strategies of variable speed wind generators are discussed, together with the frequency converter topologies suitable for grid integration. Wind Energy Conversion System also describes offshore farm technologies including multi-terminal topology and space-based wind observation schemes, as well as both AC and DC based wind farm topologies. The stability and reliability of wind farms are discussed, and grid integration issues are examined in the context of the most recent industry guidelines. Wind power smoothing, one of the big challenges for transmission system operators, is a particular focus. Fault ride through and frequency fluctuation mitigation using energy storage options are also covered. Efficiency analyses are presented for different types of commercially available wind turbine generator systems, large scale wind generators using superconducting material, and the integration of offshore wind and marine current farms.
---
Diagnosis and troubleshooting of electrical, electronic and computer systems, 6th ed.
Recommending faculty: Prof.  Jennifer Fabular (ME 165)

| | |
| --- | --- |
| Editor | Halderman, James D. |
| Place of Publication | New Jersey |
| Date of Publication | 2012 |
| Publisher | Prentice Hall |
Diagnosis and Troubleshooting of Automotive Electrical, Electronic, and Computer Systems, Sixth Edition, covers both automotive electrical and engine performance topics all in one book. NATEF-correlated, the text presents the principles and practices of diagnosis and troubleshooting of automotive electrical, electronic, and computer systems in a clear, concise format and at a level of detail that far exceeds most similar texts.
---
Digital signal processing in vehicles systems and safety.
Recommending faculty: Prof.  Jennifer Fabular (ME 165)

| | |
| --- | --- |
| Author | Hansen, John H. L…[et al.] |
| Place of Publication | New York London |
| Date of Publication | 2012 |
| Publisher | Springer |
Compiled from papers of the 4th Biennial Workshop on DSP (Digital Signal Processing) for In-Vehicle Systems and Safety this edited collection features world-class experts from diverse fields focusing on integrating smart in-vehicle systems with human factors to enhance safety in automobiles. Digital Signal Processing for In-Vehicle Systems and Safety presents new approaches on how to reduce driver inattention and prevent road accidents. The material addresses DSP technologies in adaptive automobiles, in-vehicle dialogue systems, human machine interfaces, video and audio processing, and in-vehicle speech systems. The volume also features recent advances in Smart-Car technology, coverage of autonomous vehicles that drive themselves, and information on  multi-sensor fusion for driver ID and robust driver monitoring. Digital Signal Processing for In-Vehicle Systems and Safety  is useful for engineering researchers, students, automotive manufacturers, government foundations and engineers working in the areas of control engineering, signal processing, audio-video processing, bio-mechanics, human factors and transportation engineering.
---
Fabrication and welding engineering.

Recommending faculty: Prof.  Jennifer Fabular

| | |
| --- | --- |
| Author | Timing, Roger |
| Place of Publication | Amsterdam |
| Date of Publication | 2008 |
| Publisher | Elsevier |
This brand new textbook by one of the leading engineering authors covers basic sheet-metal fabrication and welding engineering principles and applications in one volume – an unrivaled comprehensive coverage that reflects current working and teaching practice. It is fully up-to-date with the latest technical information and best practice and also includes chapters on non-technical but equally essential subjects such as health and safety, personal development and communication of technical information.

Roger Timings covers these areas of mechanical engineering and workshop practice in a highly practical and accessible style. Hundreds of illustrations demonstrate the practical application of the procedures described. The text includes worked examples for calculations and key points to aid revision. Each chapter starts with learning outcome summaries and ends with exercises which can be set as assignments.
---
Hybrid and alternative fuel vehicles.

Recommending faculty: Prof.  Jennifer Fabular (ME 165)

| | |
| --- | --- |
| Author | Halderman, James. D. |
| Place of Publication | Upper Saddle River, N.J. |
| Date of Publication | 2008 |
| Publisher | Pearson Education/Prentice Hall |
Designed for service technicians and automotive students, Hybrids and Alternative Fuel Vehicles, 2e, offers practical coverage of hybrid vehicles. Beginning with the fundamentals, the book discusses historical trends and environmental concerns, followed by separate chapters detailing each major hybrid system.  The text highlights products from leading manufacturers, making the information easy to incorporate into an existing course. Throughout the text, ample photos and illustrations, as well as features such as Real World Fix boxes, help readers effectively understand and service hybrid vehicles.
---
Fundamentals of machining processes : conventional and nonconventional processes.

Recommending faculty: Prof.  Jennifer Fabular (ME 131)

| | |
| --- | --- |
| Author | El-Hoffy, Hassan |
| Place of Publication | Boca Raton, FL. |
| Date of Publication | 2007 |
| Publisher | CRC |
Machining remains a hugely important process in modern engineering and manufacturing practice, and students need to be aware of the vast host of methods and technologies available to meet all sorts of precision and surface finish requirements. Fundamentals of Machining Processes: Conventional and Nonconventional Processes is the first textbook to collect all of the major methods into a single reference, from cutting and abrasive processes to erosion, hybrid, and micromachining processes.
A Solid Foundation
The text begins with an introduction to the various machining processes, followed by detailed discussions of cutting tool materials and geometry, mechanics of orthogonal cutting, the various factors affecting the economics of machining, and cutting methods for both flat and cylindrical surfaces. The author then shifts focus to high-speed machining and abrasive processes, including abrasive finishing and advanced processes such as ultrasonic and abrasive jet machining.
---
Principle of turbomachinery

Recommending faculty: Prof.  Jennifer Fabular (ME 165)

| | |
| --- | --- |
| Author | Korpela, Seppo, A |
| Place of Publication | Hoboken, N.J. |
| Date of Publication | 2011 |
| Publisher | Wiley |
The text is based on a course on turbomachinery which the author has taught since year 2000 as a technical elective. Topics include; Energy Transfer in Turbomachines, Gas and Steam Turbines, and Hydraulic Turbines. New material on wind turbines, and three-dimensional effects in axial turbomachines is included. The level is kept as such that students can smoothly move from a study of the most successful books in thermodynamics, fluid dynamics, and heat transfer to the subject of turbomachinery. The chapters are organized in such a way that the more difficult material is left to the later sections of each chapter. Thus, depending on the level of the students, instructors can tailor their course by omitting some sections.
Key features:
Combines theory and applications to show how gas turbines, pumps and compressor function

Allows for a smooth transition from the study of thermodynamics, fluid dynamics, and heat transfer to the subject of turbomachinery for students and professionals

Relates turbomachinery to areas such as wind power and three-dimensional effects in axial turbomachines

Provides information on several types of turbomachinery rather than concentrating specifically on one type such as centrifugal compressors.
---
Schaum's outlines theory and problems of heat transfer.
Recommending faculty: Prof. Jennifer Fabular (ME 164)

| | |
| --- | --- |
| Authors | Pitts, Donald R. |
| Place of Publication | New York |
| Date of Publication | 2012 |
| Publisher | McGraw – Hill |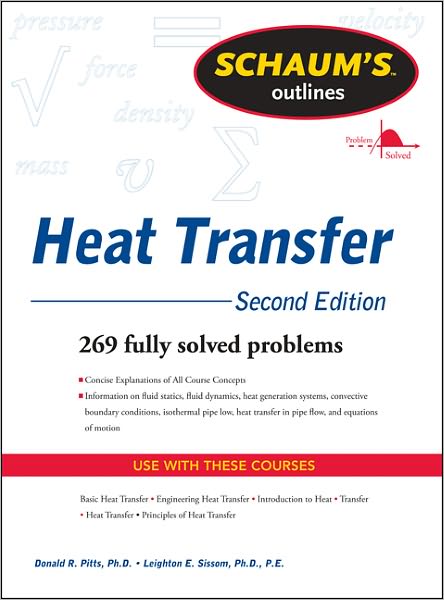 The ideal review for heat transfer course
More than 40 million students have trusted Schaum's Outlines for their expert knowledge and helpful solved problems. Written by renowned experts in their respective fields, Schaum's Outlines cover everything from math to science, nursing to language. The main feature for all these books is the solved problems. Step-by-step, authors walk readers through coming up with solutions to exercises in their topic of choice.
269 solved problems and 92 answered problems
Outline format supplies a concise guide to the standard college courses in heat transfer
Clear, concise explanations of all heat transfer concepts
Complements and supplements the major heat transfer textbooks
Appropriate for the following courses: Basic Heat Transfer, Engineering Heat Transfer, Introduction to Heat, Transfer, Heat Transfer, Principles of Heat Transfer
Easily-understood review of heat transfer
Supports all the major textbooks for heat transfer courses
---
Steam plant operation, 9th ed.

Recommending faculty: Prof.  Jennifer Fabular (ME 188)

| | |
| --- | --- |
| Editor | Woodruff, Everett B. |
| Place of Publication |  New York |
| Date of Publication | 2012 |
| Publisher | McGraw-Hill |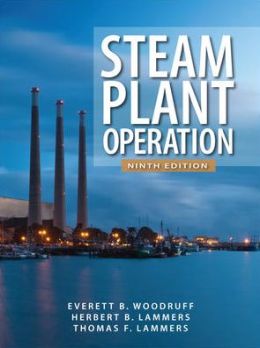 The definitive guide for steam power plant systems and operation—fully updated
For more than 75 years, this book has been a trusted source of information on steam power plants, including the design, operation, and maintenance of major systems. Steam Plant Operation, Ninth Edition, emphasizes the importance of a comprehensive energy plan utilizing all economical sources of energy, including fossil fuels, nuclear power, and renewable energy sources.
Wind, solar, and biomass power are introduced in the book, and the benefits and challenges of these renewable resources for the production of reliable, cost-effective electric power are identified. Even with these new technologies, approximately 90% of electricity is generated using steam as the power source, emphasizing its importance now and in the future. In-depth details on coal-fired plants, gas turbine cogeneration, nuclear power, and renewable energy sources are included, as are the environmental control systems that they require. Potential techniques for the reduction of carbon dioxide emissions from fossil fuel–fired power plants also are presented.
This practical guide provides common power plant calculations such as plant heat rate, boiler efficiency, pump performance, combustion processes, and collection efficiency for plant emissions. Numerous illustrations and clear presentation of the material will assist those preparing for an operator's license exam. In addition, engineering students will find a detailed introduction to steam power plant technology.
Steam Plant Operation, Ninth Edition, covers:
Steam and its importance
Boilers
Design and construction of boilers
Combustion of fuels
Boiler settings, combustion systems, and auxiliary equipment
Boiler accessories
Operation and maintenance of boilers
Pumps
Steam turbines, condensers, and cooling towers
Operating and maintaining steam turbines, condensers, cooling towers, and auxiliaries
Auxiliary steam plant equipment
Environmental control systems
Waste-to-energy plants
---
Sustainable engineering : concepts, design and case study.
Recommending faculty: Prof. Florencio Ballesteros

| | |
| --- | --- |
| Authors | Allen, David T. |
| Place of Publication | Upper Saddle River, N.J. |
| Date of Publication | 2012 |
| Publisher | Prentice Hall |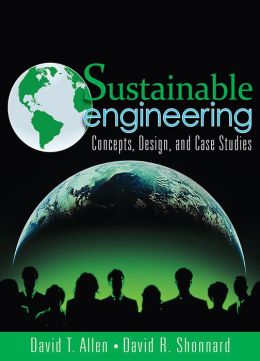 Assessing Engineering Designs for Environmental, Economic, and Social Impact
Engineers will play a central role in addressing one of the twenty-first century's key challenges: the development of new technologies that address societal needs and wants within the constraints imposed by limited natural resources and the need to protect environmental systems.To create tomorrow's sustainable products, engineers must carefully consider environmental, economic, and social factors in evaluating their designs. Fortunately, quantitative tools for incorporating sustainability concepts into engineering designs and performance metrics are now emerging.
Sustainable Engineering
introduces these tools and shows how to apply them.Building on widely accepted principles they first introduced in
Green Engineering,
David T. Allen and David R. Shonnard discuss key aspects of designing sustainable systems in any engineering discipline. Their powerful, unified approach integrates essential engineering and quantitative design skills, industry perspectives, and case studies, enabling engineering professionals, educators, and students to incorporate sustainability throughout their work. Coverage includes
A concise review of the natural resource and environmental challenges engineers face when designing for sustainability
Analysis and legislative frameworks for addressing environmental issues and sustainability
Methods for identifying green and sustainable materials
Principles for improving the sustainability of engineering designs
Tools for evaluating sustainable designs and monetizing their benefits
---
Structural glass facades and enclosures.

Recommending faculty: Prof.  Alexis Philip A. Acacio

| | |
| --- | --- |
| Editor | Patterson, Michael |
| Place of Publication | Hoboken, N.J. |
| Date of Publication | 2011 |
| Publisher | Wiley |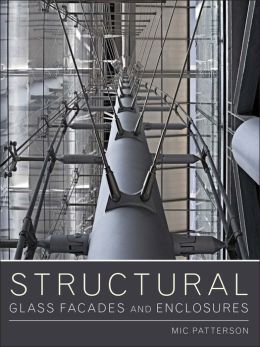 A comprehensive guide to structural glass facades for architects, engineers, and buildersOnce an experimental building form, structural glass facades have matured into a fully robust technology. Structural Glass Facades and Enclosures documents, defines, and categorizes the current state of the art in long-span glass facade design and construction, with a focus on structural systems, glass cladding options, and implementation strategies for innovative design. A comparative analysis of these various systems is included, along with designs and design practices for enhancing transparency; engineering issues; material, process, and fabrication considerations; installation means and methods; and project delivery strategies for implementing innovative building technology in today's construction marketplace. The reader will find information here that is not available together in any single resource, including:
Structural system types and design options, with integrated glass system options and their application on each of the structural types
An in-depth discussion of design, fabrication, and installation issues relative to each system type, accompanied by illustrations and photographs
A discussion of the challenges of implementing innovative design and technology in the construction industry, and operational practices to improve the probability of success
A series of in-depth case studies documenting representative samples of stunning built works that employ the technology and design principles identified in the book
Structural Glass Facades and Enclosures provides expert content for putting cutting-edge technology into real-life practice, creating new potential for fresh applications embracing both aesthetic and performance solutions, and for the adoption of the technology by architects, builders, and facade practitioners.