---
CIRCULATION BOOKS

---
Biological wastewater treatment : principles, modelling and design

Recommending faculty:  Dr. Florencio Ballesteros, Jr. (EnE)
| | |
| --- | --- |
| Author | Mogens Henze |
| Place of Publication | London |
| Date of Publication | c2008 |
| Publisher | Iwa Pub. |
Over the past twenty years, the knowledge and understanding of wastewater treatment have advanced extensively and moved away from empirically-based approaches to a first principles approach embracing chemistry, microbiology, physical and bioprocess engineering, and mathematics. Many of these advances have matured to the degree that they have been codified into mathematical models for simulation with computers. For a new generation of young scientists and engineers entering the wastewater treatment profession, the quantity, complexity and diversity of these new developments can be overwhelming, particularly in developing countries where access is not readily available to advanced level tertiary education courses in wastewater treatment. Biological Wastewater Treatment addresses this deficiency. * It assembles and integrates the postgraduate course material of a dozen or so professors from research groups around the world that have made significant contributions to the advances in wastewater treatment. * The book forms part of an internet-based curriculum in wastewater treatment which also includes o summarized lecture handouts of the topics covered in book o filmed lectures by the author professors o tutorial exercises for students self-learning Upon completion of this curriculum the modern approach of modelling and simulation to wastewater treatment plant design and operation, be it activated sludge, biological nitrogen and phosphorus removal, secondary settling tanks or biofilm systems, can be embraced with deeper insight, advanced knowledge and greater confidence.
---
Hydrography

Recommending faculty: Prof.  Ma. Rosario Concepcion Ang (GE)

| | |
| --- | --- |
| Author | C.D. de Jong |
| Place of Publication | Delft, Netherlands |
| Date of Publication | c2002 |
| Publisher | VSSD |
This book is based on the lecture notes for the graduate and undergraduate courses in hydrography as offered at the Department of Geomatics Engineering of the Universitiy of Calgary and the Department of Mathematical Geodesy and Positioning of Delft University of Technology. The purpose of the book is to present an introduction to and an overview of the broad field of hydrography.Since there is only a weak interdependence between the eleven chapters, each of them can be studied separately. When used for a course, it is therefore also possible to consider only a selected number of chapters. The eleven chapters cover the following topics:
Properties of water, waves, ocean currents and general circulation.
Tide-generating forces, tidal analysis and prediction.
Batch and recursive least squares estimation and quality control.
Coordinate systems, horizontal and vertical datums, ellipsoidal computations.
Radio frequency definitions, propagation of electromagnetic waves, time keeping systems.
Underwater acoustics, propagation of underwater sound, sonar parameters and sonar equations.
Law of the Sea, baselines, maritime zones and boundaries, third party settlement.
Geometry of positioning, concepts, classification and requirements of positioning systems, standards for hydrographic surveys.
Terrestrial and satellite positioning systems, speed determination.
Underwater acoustic positioning systems, calibration of systems.
Acoustic (single- and multibeam) and airborne sounding methods, sidescan and oblique sonars.
---
Advanced engine performance diagnosis, 5th ed.

Recommending faculty:  Prof. Edwin N. Quiros (ME)

| | |
| --- | --- |
| Author | James Halderman |
| Place of Publication | Boston |
| Date of Publication | c2012 |
| Publisher | Prentice Hall |
Advanced Engine Performance Diagnosis, Fifth Edition, offers a practical, hands-on introduction to the diagnosis and troubleshooting of automotive engine control systems. It serves students as a single source for information on digital storage oscilloscopes, fuel injection and ignition system diagnoses, five-gas exhaust analysis, emission testing, and more–with a very technical, but easy-to-read and understand, presentation.
This title meets the needs for a textbook that combines topics in engine performance (ASE A8 content area) and topics covered in the advanced engine performance (L1) ASE test content area.  By combining these two complementary subjects into one comprehensive textbook, it is easier for the instructor to teach these topics and is cost effective for the student.
---
Practical data mining

Recommending faculty: Prof. Eugene Rex L. Jalao (IEOR)

| | |
| --- | --- |
| Author | Monte F. Hancock Jr. |
| Place of Publication | Boca Raton, FL |
| Date of Publication | c2012 |
| Publisher | CRC Press |
Used by corporations, industry, and government to inform and fuel everything from focused advertising to homeland security, data mining can be a very useful tool across a wide range of applications. Unfortunately, most books on the subject are designed for the computer scientist and statistical illuminati and leave the reader largely adrift in technical waters.
Revealing the lessons known to the seasoned expert, yet rarely written down for the uninitiated, Practical Data Mining explains the ins-and-outs of the detection, characterization, and exploitation of actionable patterns in data. This working field manual outlines the what, when, why, and how of data mining and offers an easy-to-follow, six-step spiral process. Catering to IT consultants, professional data analysts, and sophisticated data owners, this systematic, yet informal treatment will help readers answer questions, such as:
What process model should I use to plan and execute a data mining project?
How is a quantitative business case developed and assessed?
What are the skills needed for different data mining projects?
How do I track and evaluate data mining projects?
How do I choose the best data mining techniques?
Helping you avoid common mistakes, the book describes specific genres of data mining practice. Most chapters contain one or more case studies with detailed projects descriptions, methods used, challenges encountered, and results obtained. The book includes working checklists for each phase of the data mining process. Your passport to successful technical and planning discussions with management, senior scientists, and customers, these checklists lay out the right questions to ask and the right points to make from an insider's point of view.
---
Problem solving and data analysis using Minitab : a clear and easy guide to Six Sigma methodology

Recommending faculty:  Prof. Eugene Rex L. Jalao (IEOR)

| | |
| --- | --- |
| Author | Rehman Khan |
| Place of Publication | Chichester, West Sussex, UK |
| Date of Publication | c2013 |
| Publisher | Wiley |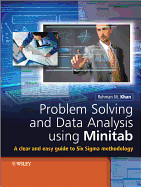 Six Sigma statistical methodology using Minitab Problem Solving and Data Analysis using Minitab presents example-based learning to aid readers in understanding how to use MINITAB 16 for statistical analysis and problem solving. Each example and exercise is broken down into the exact steps that must be followed in order to take the reader through key learning points and work through complex analyses. Exercises are featured at the end of each example so that the reader can be assured that they have understood the key learning points. Key features: Provides readers with a step by step guide to problem solving and statistical analysis using Minitab 16 which is also compatible with version 15. Includes fully worked examples with graphics showing menu selections and Minitab outputs. Uses example based learning that the reader can work through at their pace. Contains hundreds of screenshots to aid the reader, along with explanations of the statistics being performed and interpretation of results. Presents the core statistical techniques used by Six Sigma Black Belts. Contains examples, exercises and solutions throughout, and is supported by an accompanying website featuring the numerous example data sets. Making Six Sigma statistical methodology accessible to beginners, this book is aimed at numerical professionals, students or academics who wish to learn and apply statistical techniques for problem solving, process improvement or data analysis whilst keeping mathematical theory to a minimum.
---
Urban storm water management

Recommending faculty:  Dr. Florencio Ballesteros, Jr. (EnE)
| | |
| --- | --- |
| Author | Mogens Henze |
| Place of Publication | Boca Raton |
| Date of Publication | c2011 |
| Publisher | CRC Press |
Covering all elements of the storm water runoff process, Urban Storm Water Management includes numerous examples and case studies to guide practitioners in the design, maintenance, and understanding of runoff systems, erosion control systems, and common design methods and misconceptions. It covers storm water management in practice and in regulation, and reviews shortcomings and suggestions for improvements. It also covers alternative methods such as porous pavements, rain gardens, green roofs and other systems which are becoming increasingly popular and are forming the future of storm water management.
Appropriate storm water management and compliance is a necessary, yet costly and involved process. This book provides information, guidelines, and case studies to guide practitioners through all phases of effective structural storm water management. This book covers:
All aspects of storm water management—including its impacts on the environment
Numerous design procedures and problems with a separate solutions manual
Hydrologic and hydraulic calculations involved in the field of storm water management
Design and calculation methods required for efficient storm water management
Pipe and open channel flow equations, supplemented with charts and tables
Various types of nonstructural, source reduction measures
Installation methods of drainage and storm water management facilities
Urbanization has had a drastic impact on the natural process of storm water runoff; increasing both the peak and the volume of runoff, reducing infiltration, while also degrading water quality. Urban Storm Water Management is a compendium of all matters necessary for the design of efficient drainage and storm water management systems. It includes numerous examples of hydrologic and hydraulic calculations involved in this field. It also contains ample case studies that exemplify the methods and procedures for the design of extended detention basins, infiltration basins, and underground retention/infiltration basins such as chambers and dry wells. Furthermore, the book demonstrates how storm water runoff can be an effective and cost-efficient conservable and reusable resource.
---
Business intelligence applied : Implementing an effective information and communications technology infrastructure

Recommending faculty: Prof. Eugene Rex L. Jalao (IEOR)

| | |
| --- | --- |
| Author | Michael Gendron |
| Place of Publication | Hoboken, NJ |
| Date of Publication | c2013 |
| Publisher | Wiley |
Expert guidance for building an information communication and technology infrastructure that provides best in business intelligence
Enterprise performance management (EPM) technology has been rapidly advancing, especially in the areas of predictive analysis and cloud-based solutions. Business intelligence caught on as a concept in the business world as the business strategy application of data warehousing in the early 2000s. With the recent surge in interest in data analytics and big data, it has seen a renewed level of interest as the ability of a business to find the valuable data in a timely—and competitive—fashion.
Business Intelligence Applied
reveals essential information for building an optimal and effective information and communication technology (ICT) infrastructure.
Defines ICT infrastructure
Examines best practices for documenting business change and for documenting technology recommendations
Includes examples and cases from Europe and Asia
Written for business intelligence staff, CIOs, CTOs, and technology managers
With examples and cases from Europe and Asia, Business Intelligence Applied expertly covers business intelligence, a hot topic in business today as a key element to business and data analytics.
---
Computational fluid-structure interaction : methods and applications

Recommending faculty:  Prof. Liezl Raissa Tan (CE)

| | |
| --- | --- |
| Author | Yuri Bazilevs |
| Place of Publication | Chichester, West Sussex, UK |
| Date of Publication | c2013 |
| Publisher | Wiley |
Computational Fluid-Structure Interaction: Methods and Applications takes the reader from the fundamentals of computational fluid and solid mechanics to the state-of-the-art in computational FSI methods, special FSI techniques, and solution of real-world problems. Leading experts in the field present the material using a unique approach that combines advanced methods, special techniques, and challenging applications.
This book begins with the differential equations governing the fluid and solid mechanics, coupling conditions at the fluid–solid interface, and the basics of the finite element method. It continues with the ALE and space–time FSI methods, spatial discretization and time integration strategies for the coupled FSI equations, solution techniques for the fully-discretized coupled equations, and advanced FSI and space–time methods. It ends with special FSI techniques targeting cardiovascular FSI, parachute FSI, and wind-turbine aerodynamics and FSI.
Key features:
First book to address the state-of-the-art in computational FSI
Combines the fundamentals of computational fluid and solid mechanics, the state-of-the-art in  FSI methods, and special FSI techniques targeting challenging classes of real-world problems
Covers modern computational mechanics techniques, including stabilized, variational multiscale, and space–time methods, isogeometric analysis, and advanced FSI coupling methods
Is in full color, with diagrams illustrating the fundamental concepts and advanced methods and with insightful visualization illustrating the complexities of the problems that can be solved with the FSI methods covered in the book.
Authors are award winning, leading global experts in computational FSI, who are known for solving some of the most challenging FSI problems
Computational Fluid-Structure Interaction: Methods and Applications is a comprehensive reference for researchers and practicing engineers who would like to advance their existing knowledge on these subjects. It is also an ideal text for graduate and senior-level undergraduate courses in computational fluid mechanics and computational FSI.
---
Hacking for dummies, 4th ed.

Recommending faculty: Prof. Edwin N. Quiros (ME)

| | |
| --- | --- |
| Author | Kevin Beaver |
| Place of Publication | Hoboken, N.J. |
| Date of Publication | c2013 |
| Publisher | Wiley |
The best way to stay safe online is to stop hackers before they attack – first, by understanding their thinking and second, by ethically hacking your own site to measure the effectiveness of your security. This practical, top-selling guide will help you do both. Fully updated for Windows 8 and the latest version of Linux, Hacking For Dummies, 4th Edition explores the malicious hacker's mindset and helps you develop an ethical hacking plan (also known as penetration testing) using the newest tools and techniques.
More timely than ever, this must-have book covers the very latest threats, including web app hacks, database hacks, VoIP hacks, and hacking of mobile devices.
Guides you through the techniques and tools you need to stop hackers before they hack you
Completely updated to examine the latest hacks to Windows 8 and the newest version of Linux
Explores the malicious hackers's mindset so that you can counteract or avoid attacks completely
Suggests ways to report vulnerabilities to upper management, manage security changes, and put anti-hacking policies and procedures in place
If you're responsible for security or penetration testing in your organization, or want to beef up your current system through ethical hacking, make sure you get Hacking For Dummies, 4th Edition.
---
Modern Diesel Technology: Light Duty Diesels

Recommending faculty:  Prof. Joseph Gerard T. Reyes (ME)

| | |
| --- | --- |
| Author | Sean Bennett |
| Place of Publication | Clifton Park, NY |
| Date of Publication | c2011 |
| Publisher | Thomson Delmar |
MODERN DIESEL TECHNOLOGY: LIGHT DUTY DIESELS provides a thorough introduction to the light-duty diesel engine, now the power plant of choice in pickup trucks and automobiles to optimize fuel efficiency and longevity. While the major emphasis is on highway usage, best-selling author Sean Bennett also covers small stationary and mobile off-highway diesels. Using a modularized structure, Bennett helps the reader achieve a conceptual grounding in diesel engine technology. After exploring the tools required to achieve hands-on technical competency, the text explores major engine subsystems and fuel management systems used over the past decade, including the common rail fuel systems that manage almost all current light duty diesel engines. In addition, this text covers engine management systems, computer controls, multiplexing electronics, diesel emissions and the means used to control them. All generations of CAN-bus technology are examined, including the latest automotive CAN-C multiplexing and the basics of network bus troubleshooting. ASE A-9 certification learning objectives are addressed in detail.
---
Chemical ecology in aquatic systems

Recommending faculty:  Dr. Florencio Ballesteros, Jr. (EnE)
| | |
| --- | --- |
| Editor | Christer Bronmark |
| Place of Publication | Oxford |
| Date of Publication | c2012 |
| Publisher | Oxford Univ. Press |
In recent years it has become increasingly clear that chemical interactions play a fundamental role in aquatic habitats and have far-reaching evolutionary and ecological consequences. A plethora of studies have shown that aquatic organisms from most taxa and functional groups respond to minute concentrations of chemical substances released by other organisms. However, our knowledge of this "chemical network" is still negligible. Chemical interactions can be divided into two larger sub-areas based on the function of the chemical substance. First, there are interactions where chemical substances are toxic to other organisms and are used as a defence against consumers (including both herbivores and predators) or a weapon against competitors (allelopathy). Second, chemical substances may be used as a source for information of the environment; for example: how can I find the optimal habitat, the best food, the nicest partner, and avoid being eaten? Aquatic organisms are able to detect and respond to extremely low concentrations of chemical cues to answer all these questions. The book aims at connecting these intriguing chemical interactions with traditional knowledge of organism interactions.Chemical Ecology of Aquatic Systems covers a wide range of studies, both plant and animal, from different geographic regions and habitats – pelagic as well as benthic. Most of the chemical interactions are similar in freshwater and marine habitats and this book therefore strives at integrating work on both systems.horus removal, secondary settling tanks or biofilm systems, can be embraced with deeper insight, advanced knowledge and greater confidence.
---
Understanding automotive electronics: an engineering perspective, 7th ed.

Recommending faculty: Prof. Edwin N. Quiros  (ME)

| | |
| --- | --- |
| Author | William B. Ribbens |
| Place of Publication | Amsterdam |
| Date of Publication | c2013 |
| Publisher | Elsevier/BH |
Understanding Automotive Electronics is the first port of call for control engineers, system engineers and electronic engineers in the automotive industry needing a thorough grounding in automotive electronics and control.
From simple automotive electronic circuits to the latest developments in telematics, active safety, entertainment and communications, the book is also an ideal resource for more senior automotive engineers without a background in electronics or control needing to work in the area or supervise specialists.
Thoroughly updated throughout, this new edition moves away from introductory mechanic-level electronics to cover more hot topics such as transmission control, hybrid control, AUTOSAR (AUTomotive Open System ARchitecture) and vehicle networks.
Comprehensive coverage of automotive electronics and control, including the latest technology in telematics, active safety, entertainment and communications
Covers the topic from an engineering perspective rather than a technician or mechanic-focused trouble-shooting level
Ideal as a conversion tool for control and electronic engineers moving into the automotive industry and a valuable reference for all automotive engineers without an electronics background needing to understand this far-reaching topic
---
Stream and  watershed restoration: a guide to restoring riverine processes and habitats

Recommending faculty:  Prof. Florencio Ballesteros, Jr. (EnE)

| | |
| --- | --- |
| Author | Philip Roni |
| Place of Publication | Chichester, West Sussex |
| Date of Publication | c2013 |
| Publisher | Wiley |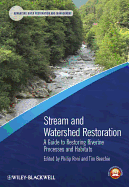 With $2 billion spent annually on stream restoration worldwide, there is a pressing need for guidance in this area, but until now, there was no comprehensive text on the subject. Filling that void, this unique text covers both new and existing information following a stepwise approach on theory, planning, implementation, and evaluation methods for the restoration of stream habitats. Comprehensively illustrated with case studies from around the world, Stream and Watershed Restoration provides a systematic approach to restoration programs suitable for graduate and upper-level undergraduate courses on stream or watershed restoration or as a reference for restoration practitioners and fisheries scientists. Part of the Advancing River Restoration and Management Series.
---
Analysis and design for systems, 9th ed.

Recommending faculty: Prof. Edgardo G. Atanacio (IEOR)

| | |
| --- | --- |
| Author | Gary B. Shelly |
| Place of Publication | Australia |
| Date of Publication | c2012 |
| Publisher | Cengage |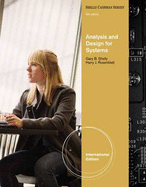 "Analysis and Design for Systems, International Edition" offers a practical, visually appealing approach to information systems development. The integrated Video Learning Sessions will increase engagement and improve student understanding of the course material. Throughout the book, real-world case studies emphasize critical thinking and IT skills in a dynamic, business-related environment. Numerous projects, assignments, end-of-chapter exercises, and a Student Study Tool provide hands-on practice. The new Ninth Edition will help prepare students for success in today's intensely competitive business world.
---
Concepts of database management, 7th ed.

Recommending faculty:  Prof. Edgardo G. Atanacio (IEOR)

| | |
| --- | --- |
| Author | Philip J. Pratt |
| Place of Publication | Boston, MA |
| Date of Publication | c2012 |
| Publisher | Course Technology |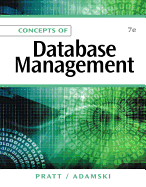 This concise yet comprehensive introduction to fundamental database concepts is an indispensable resource to develop your knowledge of database management concepts. Now in its sixth edition, Concepts of Database Management, International Edition maintains the focus on real-world cases that made previous editions so effective addressing the most current database issues faced today such as database design, data integrity, concurrent updates, and data security. Special features include detailed coverage of the relational model (including Query-By-Example (QBE) and SQL), normalization and views, database design, database administration and management, and more. This book's advanced topics include distributed databases, data warehouses, stored procedures, and triggers fostering an in-depth understanding of database management that will prepare users for success in their fields.
---
Membrane processes for water use

Recommending faculty: Prof. Florencio Ballesteros, Jr. (EnE)

| | |
| --- | --- |
| Author | Anthony M. Wachinski |
| Place of Publication | New York |
| Date of Publication | c2013 |
| Publisher | McGraw-Hill |
Written by a water and wastewater industry expert with more than 35 years of experience, this book describes how membrane technology can be used alone, coupled with aerobic or anaerobic processes, or as integrated membrane systems to process treated municipal effluent or industrial wastewater for discharge, recycle, or reuse.
After reviewing chemistry fundamentals and basic principles, Membrane Processes for Water Reuse covers microfiltration, ultrafiltration, nanofiltration, reverse osmosis, and membrane coupled bioprocesses. The design, sizing, and selection of membrane technologies for water recycling and reuse applications is discussed in detail. Wastewater reuse case studies and example problems illustrate the concepts presented in this practical, authoritative guide.
Coverage includes:
Water reuse overview
Water quality
Basic concepts of membrane filtration processes
Low pressure membrane technology–microfiltration and ultrafiltration
Diffusive membrane technologies–nanofiltration and reverse osmosis
Membrane-coupled bioprocess
Design of membrane systems for water recycling and reuse
Future trends and challenges
---
Information systems in organizations : people, technology, and processes

Recommending faculty:  Prof. Edgardo G. Atanacio (IE 154)

| | |
| --- | --- |
| Author | Patricia M. Wallace |
| Place of Publication | Boston |
| Date of Publication | c2013 |
| Publisher | Pearson |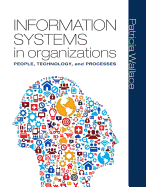 The freshest, most contemporary overview of information systems.
---
Information visualization : perception for design

Recommending faculty: Engr. Jules Bangate (GE)

| | |
| --- | --- |
| Author | Colin Ware |
| Place of Publication | Waltham, Mass. |
| Date of Publication | c2013 |
| Publisher | Morgan Kaufmann |
Most designers know that yellow text presented against a blue background reads clearly and easily, but how many can explain why, and what really are the best ways to help others and ourselves clearly see key patterns in a bunch of data? When we use software, access a website, or view business or scientific graphics, our understanding is greatly enhanced or impeded by the way the information is presented.
This book explores the art and science of why we see objects the way we do. Based on the science of perception and vision, the author presents the key principles at work for a wide range of applications–resulting in visualization of improved clarity, utility, and persuasiveness. The book offers practical guidelines that can be applied by anyone: interaction designers, graphic designers of all kinds (including web designers), data miners, and financial analysts.
Complete update of the recognized source in industry, research, and academic for applicable guidance on information visualizing.
Includes the latest research and state of the art information on multimedia presentation.
More than 160 explicit design guidelines based on vision science.
A new final chapter that explains the process of visual thinking and how visualizations help us to think about problems.
Packed with over 400 informative full color illustrations, which are key to understanding of the subject.
---
Fundamentals of ecosystem science

Recommending faculty:  Prof. Florencio Ballesteros, Jr.  (EnE)

| | |
| --- | --- |
| Author | Kathleen C. Weathers |
| Place of Publication | Amsterdam |
| Date of Publication | c2013 |
| Publisher | Elsevier |
Ecosystem science has developed into a major part of contemporary ecology, and it is now applied to diagnose and solve a wide range of important environmental problems. Fundamentals of Ecosystem Science provides a compact and comprehensive introduction to modern ecosystem science. Written by a group of experts, this book covers major concepts of ecosystem science, biogeochemistry, and energetics.
Addresses, contrasts, and compares both terrestrial and aquatic ecosystems
Combines general lessons, concepts, frameworks, and challenges in highly accessible synthesis chapters
Presents firsthand case studies, written by leaders in the field, offering personal insights into how adopting an ecosystem approach led to innovations, new understanding, management changes, and policy solutions
---