---
CIRCULATION BOOKS
---
Principles of composite material mechanics, 3rd ed.
| | |
| --- | --- |
| Author | Ronald F. Gibson |
| Place of Publication | Boca Raton, Fla. |
| Date of Publication | c2012 |
| Publisher | Taylor & Francis |
Principles of Composite Material Mechanics, Third Edition presents a unique blend of classical and contemporary mechanics of composites technologies. While continuing to cover classical methods, this edition also includes frequent references to current state-of-the-art composites technology and research findings.
New to the Third Edition
*Many new worked-out example problems, homework problems, figures, and references.
*An appendix on matrix concepts and operations.
*Coverage of particle composites, nanocomposites, nanoenhancement of conventional fiber composites, and hybrid multiscale composites.
*Expanded coverage of finite element modeling and test methods.
Easily accessible to students, this popular bestseller incorporates the most worked-out example problems and exercises of any available textbook on mechanics of composite materials. It offers a rich, comprehensive, and up-to-date foundation for students to begin their work in composite materials science and engineering. A solutions manual and PowerPoint presentations are available for qualifying instructors.
---
Waste-water engineering
| | |
| --- | --- |
| Authors | R. Parker … [et al.] |
| Place of Publication | Penjuru Close, Singapore |
| Date of Publication | c2009 |
| Publisher | Alkem Company |
Importance of water to the existence of human life is next to air. Human settlements, towns and cities are dependent upon the continuous supply of water from different sources. Water exists in all the three forms—solid, liquid and gas—and all the three forms are important to humans as well as all the biological systems. This edition discusses importance, properties and uses of water, along with quality, sources and classification. Conveyance of water, quality, and waste-water treatment are the topics focussed upon. Besides filtration, both physical and chemical operations have been discussed thoroughly. Water transmission and distribution systems have been discussed. Biological waste treatment, residual management, treatment of sewage, along with systems for resource and energy and connected microbiology have been described. Separate chapters have been included to cover hydraulics and use of computers in waste-water technology. Appendices and glossary at the end of the text provide a quick reference to the readers. This book is a complete treatise on water processing techniques including recycling and reuse of waste-water, making it an essential reading for all students and teachers of graduate and postgraduate courses in engineering, environment, life sciences, water technology and concerned industrial applications.
---
Electrochemical science and technology : fundamentals and applications
| | |
| --- | --- |
| Authors | Keith B. Oldham, Jan C. Myland, Alan M. Bond |
| Place of Publication | Chichester, West Sussex, U.K |
| Date of Publication | 2011 |
| Publisher | Wiley |
Electrochemistry is a discipline of wide scientific and technological interest. Scientifically, it explores the electrical properties of materials and especially the interfaces between different kinds of matter. Technologically, electrochemistry touches our lives in many ways that few fully appreciate; for example, materials as diverse as aluminum, nylon, and bleach are manufactured electrochemically, while the batteries that power all manner of appliances, vehicles, and devices are the products of electrochemical research. Other realms in which electrochemical science plays a crucial role include corrosion, the disinfection of water, neurophysiology, sensors, energy storage, semiconductors, the physics of thunderstorms, biomedical analysis, and so on.
This book treats electrochemistry as a science in its own right, albeit resting firmly on foundations provided by chemistry, physics, and mathematics. Early chapters discuss the electrical and chemical properties of materials from which electrochemical cells are constructed. The behavior of such cells is addressed in later chapters, with emphasis on the electrodes and the reactions that occur on their surfaces. The role of transport to and from electrodes is a topic that commands attention, because it crucially determines cell efficiency. Final chapters deal with voltammetry, the methodology used to investigate electrode behavior. Interspersed among the more fundamental chapters are chapters devoted to applications of electrochemistry: electrosynthesis, power sources, "green electrochemistry", and corrosion.
Electrochemical Science and Technology is addressed to all who have a need to come to grips with the fundamentals of electrochemistry and to learn about some of its applications. It will constitute a text for a senior undergraduate or graduate course in electrochemistry. It also serves as a source of material of interest to scientists and technologists in various fields throughout academia, industry, and government – chemists, physicists, engineers, environmentalists, materials scientists, biologists, and those in related endeavors.
This book:
*Provides a background to electrochemistry, as well as treating the topic itself.
*Is accessible to all with a foundation in physical science, not solely to chemists.
*Is addressed both to students and those later in their careers.
*Features web links (through www.wiley.com/go/EST) to extensive material that is of a more tangential, specialized, or mathematical nature.
*Includes questions as footnotes to support the reader's evolving comprehension of the material, with fully worked answers provided on the web.
*Provides web access to Excel® spreadsheets which allow the reader to model electrochemical events.
*Has a copious Appendix of relevant data.
---
Mechanical properties of solid polymer, 3rd ed.
| | |
| --- | --- |
| Authors | I.M. Ward, J. Sweeney |
| Place of Publication | Chichester, West Sussex, U. K. |
| Date of Publication | 2013 |
| Publisher | Wiley |
Providing an updated and comprehensive account of the properties of solid polymers, the book covers all aspects of mechanical behaviour. This includes finite elastic behavior, linear viscoelasticity and mechanical relaxations, mechanical anisotropy, non-linear viscoelasicity, yield behavior and fracture. New to this edition is coverage of polymer nanocomposites, and molecular interpretations of yield, e.g. Bowden, Young, and Argon.
The book begins by focusing on the structure of polymers, including their chemical composition and physical structure. It goes on to discuss the mechanical properties and behaviour of polymers, the statistical molecular theories of the rubber-like state and describes aspects of linear viscoelastic behaviour, its measurement, and experimental studies.
Later chapters cover composites and experimental behaviour, relaxation transitions, stress and yielding. The book concludes with a discussion of breaking phenomena.
---
Glass-ceramic technology, 2nd ed.
Recommending faculty: Prof. Reinol Josef D.C. Compañero
| | |
| --- | --- |
| Authors | Wolfram Holand, George H. Beall |
| Place of Publication | Hoboken, N. J. |
| Date of Publication | c2012 |
| Publisher | Wiley |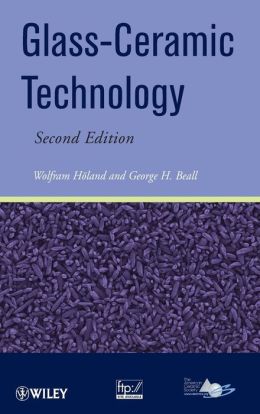 Glass-ceramic materials share many properties with both glass and more traditional crystalline ceramics. This new edition examines the various types of glass-ceramic materials, the methods of their development, and their countless applications. With expanded sections on biomaterials and highly bioactive products (i.e., Bioglass and related glass ceramics), as well as the newest mechanisms for the development of dental ceramics and theories on the development of nano-scaled glass-ceramics, here is a must-have guide for ceramic and materials engineers, managers, and designers in the ceramic and glass industry.
---
Testing adhesive joints : best practices
| | |
| --- | --- |
| Editors | Lucas F.M. da Silva … [et al.] |
| Place of Publication | Weinheim |
| Date of Publication | c2012 |
| Publisher | Wiley-VCH |
Joining techniques such as welding, brazing, riveting and screwing are used by industry all over the world on a daily basis. A further method of joining has also proven to be highly successful: adhesive bonding. Adhesive bonding technology has an extremely broad range of applications. And it is difficult to imagine a product – in the home, in industry, in transportation, or anywhere else for that matter – that does not use adhesives or sealants in some manner. The book focuses on the methodology used for fabricating and testing adhesive and bonded joint specimens. The text covers a wide range of test methods that are used in the field of adhesives, providing vital information for dealing with the range of adhesive properties that are of interest to the adhesive community. With contributions from many experts in the field, the entire breadth of industrial laboratory examples, utilizing different best practice techniques are discussed. The core concept of the book is to provide essential information vital for producing and characterizing adhesives and adhesively bonded joints.
---
Shale oil production processes
| | |
| --- | --- |
| Author | James G. Speight |
| Place of Publication | Amsterdam |
| Date of Publication | 2012 |
| Publisher | Gulf Professional Pub. |
Shale Oil represents a huge additional global fossil fuel resource. However, extracting oil from the shale is no simple task; much still needs to be understood to make the process more cost-effective to increase economic flow rates. Clear and rigorous, Oil Shale Production Process will prove useful for those scientists and engineers already engaged in fossil fuel science and technology as well as scientists, non-scientists, engineers, and non-engineers who wish to gain a general overview or update of the science and technology of fossil fuels. Not only does the book discuss the production processes but also provides methods which should reduce environmental footprint by properly addressing: surface mining and extraction processes, in situ conversion process and hydrotreatment.
*Covers production processes technologies such as: surface mining and retorting, in Situ Retoring and processes, direct and indirect retorting and hydrotreatment for shale oil.
*Methods which should reduce environmental footprint
*Easy-to-read understand overview of the chemistry, engineering, and technology of shale oil
---
Sustainable development in practice : case studies for engineers and scientists, 2nd ed.

| | |
| --- | --- |
| Editors | Adisa Azapagic and Slobodan Perdan |
| Place of Publication | Chichester, West Sussex, U.K. |
| Date of Publication | 2011 |
| Publisher | Wiley-Blackwell |
Sustainable Development in Practice: Case Studies for Engineers and Scientists, Second Edition explores the concept of sustainable development and its implications for science and engineering. It looks at how sustainability criteria can be combined with traditional scientific and engineering considerations to design and operate industrial systems in a more sustainable manner. Taking a life cycle approach to addressing economic, environmental and social issues, the book presents a series of new practical case studies drawn from a range of sectors, including mining, energy, food, buildings, transport, waste, and health.
Written in an accessible style, the book opens with a general introduction to the concept of sustainable development and explores its practical implications for technical experts. Recognising that practical application of sustainable development depends on the context, the second part of the book is devoted to case studies. The case studies explore scientific and technical aspects alongside relevant environmental economic and social issues.
The key features of this completely revised and updated second edition include:
*Twelve new chapters, including the case studies on nuclear energy, biofuels, aviation, buildings, urban transport, food, sanitation and health.
*Six completely revised chapters
*Coverage of a wide range of sustainability issues in both developed and developing countries
*Integration of scientific and technical aspects with economic, environmental and social considerations
*Discussion of policy implications
*Communication with the non-engaging and non-scientific audience
Considered essential reading for all engineers and scientists concerned with sustainable development, Sustainable Development in Practice: Case Studies for Engineers and Scientists, Second Edition also provides key reading and learning materials for undergraduate and postgraduate science and engineering students.
---
Nitride semiconductor devices : fundamentals and applications
| | |
| --- | --- |
| Author | Hadis Morkoc |
| Place of Publication | Weinheim, Germany |
| Date of Publication | c2013 |
| Publisher | Wiley-VCH |
This book gives a clear presentation of the necessary basics of semiconductor and device physics and engineering. It introduces readers to fundamental issues that will enable them to follow the latest technological research. It also covers important applications, including LED and lighting, semiconductor lasers, high power switching devices, and detectors. This balanced and up-to-date treatment makes the text an essential educational tool for both advanced students and professionals in the electronics industry.
---
Grid integration of electric vehicles in open electricity markets
Recommending faculty: Dr. Michael Angelo Pedrasa
| | |
| --- | --- |
| Editor | Qiuwei Wu |
| Place of Publication | Chichester, West Sussex, U.K. |
| Date of Publication | 2013 |
| Publisher | Wiley |
Presenting the policy drivers, benefits and challenges for grid integration of electric vehicles (EVs) in the open electricity market environment, this book provides a comprehensive overview of existing electricity markets and demonstrates how EVs are integrated into these different markets and power systems.
Unlike other texts, this book analyses EV integration in parallel with electricity market design, showing the interaction between EVs and differing electricity markets. Future regulating power market and distribution system operator (DSO) market design is covered, with up-to-date case studies and examples to help readers carry out similar projects across the world.
With in-depth analysis, this book describes:
*The impact of EV charging and discharging on transmission and distribution networks.
*Market-driven EV congestion management techniques, for example the day-ahead tariff based congestion management scenario within electric distribution networks.
*Optimal EV charging management with the fleet operator concept and smart charging management.
*EV battery technology, modelling and tests.
*The use of EVs for balancing power fluctuations from renewable energy sources, looking at power system operation support, including frequency reserve, power regulation and voltage support.
An accessible technical book for power engineers and grid/distributed systems operators, this also serves as a reference text for researchers in the area of EVs and power systems. It provides distribution companies with the knowledge they need when facing the challenges introduced by large scale EV deployment, and demonstrates how transmission system operators (TSOs) can develop the existing system service market in order to fully utilize the potential of EV flexibility. With thorough coverage of the technologies for EV integration, this volume is informative for research professors and graduate students in power systems; it will also appeal to EV manufacturers, regulators, EV market professionals, energy providers and traders, mobility providers, EV charging station companies, and policy makers.
---
Numerical methods for engineers and scientists using MATLAB
| | |
| --- | --- |
| Author | Ramin S. Esfandiari |
| Place of Publication | Boca Raton |
| Date of Publication | c2013 |
| Publisher | CRC Press |
Designed to benefit scientific and engineering applications, Numerical Methods for Engineers and Scientists Using MATLAB® focuses on the fundamentals of numerical methods while making use of MATLAB software. The book introduces MATLAB early on and incorporates it throughout the chapters to perform symbolic, graphical, and numerical tasks. The text covers a variety of methods from curve fitting to solving ordinary and partial differential equations.
*Provides fully worked-out examples showing all details
*Confirms results through the execution of the user-defined function or the script file
*Executes built-in functions for re-confirmation, when available
*Generates plots regularly to shed light on the soundness and significance of the numerical results
Created to be user-friendly and easily understandable, Numerical Methods for Engineers and Scientists Using MATLAB® provides background material and a broad introduction to the essentials of MATLAB, specifically its use with numerical methods. Building on this foundation, it introduces techniques for solving equations and focuses on curve fitting and interpolation techniques. It addresses numerical differentiation and integration methods, presents numerical methods for solving initial-value and boundary-value problems, and discusses the matrix eigenvalue problem, which entails numerical methods to approximate a few or all eigenvalues of a matrix. The book then deals with the numerical solution of partial differential equations, specifically those that frequently arise in engineering and science.
The book presents a user-defined function or a MATLAB script file for each method, followed by at least one fully worked-out example. When available, MATLAB built-in functions are executed for confirmation of the results. A large set of exercises of varying levels of difficulty appears at the end of each chapter. The concise approach with strong, up-to-date MATLAB integration provided by this book affords readers a thorough knowledge of the fundamentals of numerical methods utilized in various disciplines.
---
Taking sides : clashing views in sustainability
| | |
| --- | --- |
| Editor | Robert W. Taylor |
| Place of Publication | New York |
| Date of Publication | c2012 |
| Publisher | McGraw-Hill |
Taking Sides volumes present current controversial issues in a debate-style format designed to stimulate student interest and develop critical thinking skills. Each issue is thoughtfully framed with Learning Outcomes, an Issue Summary, an Introduction, and an Exploring the Issue section featuring Critical Thinking and Reflection, Is There Common Ground?, and Additional Resources. Taking Sides readers also offer a Topic Guide and an annotated listing of Internet References for further consideration of the issues. An online Instructor's Resource Guide with testing material is available for each volume. Using Taking Sides in the Classroom is also an excellent instructor resource.
---
Real world multicore embedded systems : a practical approach
Recommending faculty: Dr. Edwin Umali
| | |
| --- | --- |
| Author | Bryon Moyer |
| Place of Publication | Oxford, U.K. |
| Date of Publication | 2013 |
| Publisher | Newnes |
This Expert Guide gives you the techniques and technologies in embedded multicore to optimally design and implement your embedded system. Written by experts with a solutions focus, this encyclopedic reference gives you an indispensable aid to tackling the day-to-day problems when building and managing multicore embedded systems.
Following an embedded system design path from start to finish, our team of experts takes you from architecture, through hardware implementation to software programming and debug.
With this book you will learn:
. What motivates multicore
. The architectural options and tradeoffs; when to use what
. How to deal with the unique hardware challenges that multicore presents
. How to manage the software infrastructure in a multicore environment
. How to write effective multicore programs
. How to port legacy code into a multicore system and partition legacy software
. How to optimize both the system and software
. The particular challenges of debugging multicore hardware and software
Examples demonstrating timeless implementation details.
Proven and practical techniques reflecting the authors' expertise built from years of experience and key advice on tackling critical issues.
---
Signal processing and integrated circuits
Recommending faculty: Prof. Mike Bayona
| | |
| --- | --- |
| Author | Hussein Baher |
| Place of Publication | Chichester, West Sussex, U.K. |
| Date of Publication | 2012 |
| Publisher | Wiley |
This book provides a balanced account of analog, digital and mixed-mode signal processing with applications in telecommunications. Part I Perspective gives an overview of the areas of Systems on a Chip (Soc) and mobile communication which are used to demonstrate the complementary relationship between analog and digital systems. Part II Analog (continuous-time) and Digital Signal Processing contains both fundamental and advanced analysis, and design techniques, of analog and digital systems. This includes analog and digital filter design; fast Fourier transform (FFT) algorithms; stochastic signals; linear estimation and adaptive filters. Part III Analog MOS Integrated Circuits for Signal Processing covers basic MOS transistor operation and fabrication through to the design of complex integrated circuits such as high performance Op Amps, Operational Transconductance Amplifiers (OTA's) and Gm-C circuits. Part IV Switched-capacitor and Mixed-mode Signal Processing outlines the design of switched-capacitor filters, and concludes with sigma-delta data converters as an extensive application of analog and digital signal processing.
Contains the fundamentals and advanced techniques of continuous-time and discrete-time signal processing.
Presents in detail the design of analog MOS integrated circuits for signal processing, with application to the design of switched-capacitor filters.
Uses the comprehensive design of integrated sigma-delta data converters to illustrate and unify the techniques of signal processing.
Includes solved examples, end of chapter problems and MATLAB® throughout the book, to help readers understand the mathematical complexities of signal processing.
The treatment of the topic is at the senior undergraduate to graduate and professional levels, with sufficient introductory material for the book to be used as a self-contained reference.
---
Semiconductor devices : physics and technology, 3rd ed., International student version
Recommending faculty: Prof. Joy Reyes-Madamba
| | |
| --- | --- |
| Authors | S. M. Sze, M. K. Lee |
| Place of Publication | Singapore |
| Date of Publication | c2013 |
| Publisher | Wiley |
Semiconductor Devices: Physics and Technology, Third Edition is an introduction to the physical principles of modern semiconductor devices and their advanced fabrication technology. It begins with a brief historical review of major devices and key technologies and is then divided into three sections: semiconductor material properties, physics of semiconductor devices and processing technology to fabricate these semiconductor devices.
---
High-frequency integrated circuits
| | |
| --- | --- |
| Author | Sorin Voinigescu |
| Place of Publication | New York |
| Date of Publication | 2013 |
| Publisher | Cambridge University Press |
A transistor-level, design-intensive overview of high speed and high frequency monolithic integrated circuits for wireless and broadband systems from 2 GHz to 200 GHz, this comprehensive text covers high-speed, RF, mm-wave, and optical fibre circuits using nanoscale CMOS, SiGe BiCMOS, and III-V technologies. Step-by-step design methodologies, end-of chapter problems, and practical simulation and design projects are provided, making this an ideal resource for senior undergraduate and graduate courses in circuit design. With an emphasis on device-circuit topology interaction and optimization, it gives circuit designers and students alike an in-depth understanding of device structures and process limitations affecting circuit performance.
---
Wireless sensor networks : from theory to applications
Recommending faculty: Prof. Joy Reyes-Madamba
| | |
| --- | --- |
| Editors | Ibrahiem M.M. El Emary, S. Ramakrishnan |
| Place of Publication | Boca Raton |
| Date of Publication | c2014 |
| Publisher | CRC Press/Taylor & Francis |
Although there are many books available on WSNs, most are low-level, introductory books. The few available for advanced readers fail to convey the breadth of knowledge required for those aiming to develop next-generation solutions for WSNs.
Filling this void, Wireless Sensor Networks: From Theory to Applications supplies comprehensive coverage of WSNs. In order to provide the wide-ranging guidance required, the book brings together the contributions of domain experts working in the various subfields of WSNs worldwide.
This edited volume examines recent advances in WSN technologies and considers the theoretical problems in WSN, including issues with monitoring, routing, and power control. It also details methodologies that can provide solutions to these problems. The book's 25 chapters are divided into seven parts:
1. Data Collection
2. Physical Layer and Interfacing
3. Routing and Transport Protocols
4. Energy-Saving Approaches
5. Mobile and Multimedia WSN
6. Data Storage and Monitoring
7. Applications
The book examines applications of WSN across a range of fields, including health, military, transportation, and mining. Addressing the main challenges in applying WSNs across all phases of our life, it explains how WSNs can assist in community development.
Complete with a list of references at the end of each chapter, this book is ideal for senior undergraduate and postgraduate students, researchers, scholars, academics, industrial researchers, and practicing engineers working on WSNs. The text assumes that readers possess a foundation in computer networks, wireless communication, and basic electronics.
---
An introduction to LTE : LTE, LTE-advanced, SAE, and 4G mobile communications
| | |
| --- | --- |
| Author | Christopher Cox |
| Place of Publication | Hoboken, N.J. |
| Date of Publication | 2012 |
| Publisher | Wiley |
An Introduction to LTE explains the technology used by 3GPP Long Term Evolution. The book covers the whole of LTE, both the techniques used for radio communication between the base station and the mobile phone, and the techniques used for signalling communication and data transport in the evolved packet core. It avoids unnecessary detail, focussing instead on conveying a sound understanding of the entire system.
The book is aimed at mobile telecommunication professionals, who want to understand what LTE is and how it works. It is invaluable for engineers who are working on LTE, notably those who are transferring from other technologies such as UMTS and cdma2000, those who are experts in one part of LTE but who want to understand the system as a whole, and those who are new to mobile telecommunications altogether. It is also relevant to those working in non technical roles, such as project managers, marketing executives and intellectual property consultants. On completing the book, the reader will have a clear understanding of LTE, and will be able to tackle the more specialised books and the 3GPP specifications with confidence.
Key features :
*Covers the latest developments in release 10 of the 3GPP specifications, including the new capabilities of LTE-Advanced.
*Includes references to individual sections of the 3GPP specifications, to help readers understand the principles of each topic before going to the specifications for more detailed information.
*Requires no previous knowledge of mobile telecommunications, or of the mathematical techniques that LTE uses for radio transmission and reception.