---
CIRCULATION BOOKS

---
Applied combinatorics, 2nd ed.

Recommending faculty:  Prof. Diocel Harold M. Aquino (ES)

| | |
| --- | --- |
| Author | Fred S. Roberts, |
| Place of Publication | Boca Raton, FL |
| Date of Publication | c2009 |
| Publisher | Chapman & Hall/CRC |
Now with solutions to selected problems, Applied Combinatorics, Second Edition presents the tools of combinatorics from an applied point of view. This bestselling textbook offers numerous references to the literature of combinatorics and its applications that enable readers to delve more deeply into the topics.
After introducing fundamental counting rules and the tools of graph theory and relations, the authors focus on three basic problems of combinatorics: counting, existence, and optimization problems. They discuss advanced tools for dealing with the counting problem, including generating functions, recurrences, inclusion/exclusion, and Pólya theory. The text then covers combinatorial design, coding theory, and special problems in graph theory. It also illustrates the basic ideas of combinatorial optimization through a study of graphs and networks.
---
Terramechanics and off-road vehicles engineering : terrain behaviour, off-road vehicle performance design

Recommending faculty:  Prof. Lestell V. Torio (CE 141)

| | |
| --- | --- |
| Author | J.Y. Wong |
| Place of Publication | Kidlington, Oxford |
| Date of Publication | c2010 |
| Publisher | Elsevier/BH |
Synopsis:
This book will be of great interest to any professional engineer or automotive engineering student working on off-road vehicles. Reflecting the increase in off-road vehicle production and development-recreational, agricultural, construction, military-this book equips readers with all of the necessary knowledge to successfully design and model off-road vehicle systems, and provides a comprehensive introduction to terramechanics, the mechanics of vehicle/terrain interaction.
The only book to cover the principles of off-road vehicle and terrain engineering, a rapidly developing sector that includes SUVs, tractors and agricultural vehicles, military vehicles, and construction equipment
Covers the latest developments in the field, including the latest computer-aided methods employed in the development of new generation of high-mobility off-road vehicles in Europe, North America and Asia.
Ideal for professional reference and course reference by students, with new detailed worked design examples, case studies, and accompanying problems and solutions.
---
Ceramics science and technology

Recommending faculty: Prof.  Lestelle V. Torio (CE 121)

| | |
| --- | --- |
| Editor | Ralf Riedel |
| Place of Publication | Weinheim |
| Date of Publication | c2012 |
| Publisher | Wiley |
Synopsis: Although ceramics have been known to mankind literally for millennia, research has never ceased. Apart from the classic uses as a bulk material in pottery, construction, and decoration, the latter half of the twentieth century saw an explosive growth of application fields, such as electrical and thermal insulators, wear-resistant bearings, surface coatings, lightweight armour, or aerospace materials. In addition to plain, hard solids, modern ceramics come in many new guises such as fabrics, ultrathin films, microstructures and hybrid composites.
Built on the solid foundations laid down by the 20-volume series Materials Science and Technology, Ceramics Science and Technology picks out this exciting material class and illuminates it from all sides.
Materials scientists, engineers, chemists, biochemists, physicists and medical researchers alike will find this work a treasure trove for a wide range of ceramics knowledge from theory and fundamentals to practical approaches and problem solutions.
---
Applied regression analysis and other multivariable methods

Recommending faculty:  Prof.  Diocel Harold M. Aquino (ES)

| | |
| --- | --- |
| Author | David G. Kleinbaum |
| Place of Publication | Belmont, CA |
| Date of Publication | c2008 |
| Publisher | Brooks/Cole Cengage Learning |
This bestseller will help you learn regression-analysis methods that you can apply to real-life problems. It highlights the role of the computer in contemporary statistics with numerous printouts and exercises that you can solve using the computer. The authors continue to emphasize model development, the intuitive logic and assumptions that underlie the techniques covered, the purposes, advantages, and disadvantages of the techniques, and valid interpretations of those techniques.
---
Statistics and probability with applications for engineers and scientists

Recommending faculty: Prof. Diocel Harold M. Aquino (ES)

| | |
| --- | --- |
| Author | Bhisham C. Gupta |
| Place of Publication | Hoboken, N.J. |
| Date of Publication | c2013 |
| Publisher | Wiley |
An understanding of statistical tools is essential for engineers and scientists who often need to deal with data analysis over the course of their work. Statistics and Probability with Applications for Engineers and Scientists walks readers through a wide range of popular statistical techniques, explaining step-by-step how to generate, analyze, and interpret data for diverse applications in engineering and the natural sciences.
Unique among books of this kind, Statistics and Probability with Applications for Engineers and Scientists covers descriptive statistics first, then goes on to discuss the fundamentals of probability theory. Along with case studies, examples, and real-world data sets, the book incorporates clear instructions on how to use the statistical packages Minitab® and Microsoft® Office Excel® to analyze various data sets. The book also features:
• Detailed discussions on sampling distributions, statistical estimation of population parameters, hypothesis testing, reliability theory, statistical quality control including Phase I and Phase II control charts, and process capability indices
• A clear presentation of nonparametric methods and simple and multiple linear regression methods, as well as a brief discussion on logistic regression method
• Comprehensive guidance on the design of experiments, including randomized block designs, one- and two-way layout designs, Latin square designs, random effects and mixed effects models, factorial and fractional factorial designs, and response surface methodology
• A companion website containing data sets for Minitab and Microsoft Office Excel, as well as JMP ® routines and results
Assuming no background in probability and statistics, Statistics and Probability with Applications for Engineers and Scientists features a unique, yet tried-and-true, approach that is ideal for all undergraduate students as well as statistical practitioners who analyze and illustrate real-world data in engineering and the natural sciences.
---
Probability and statistics for engineers and scientists, 4th ed.

Recommending faculty:  Prof. Diocel Harold M. Aquino (ES)

| | |
| --- | --- |
| Author | Anthony Hayter |
| Place of Publication | Australia |
| Date of Publication | c2013 |
| Publisher | Brooks/Cole, Cengage Learning |
"Probability And Statistics For Engineers And Scientists, 4/e, International Edition" continues the approach that has made previous editions successful. As a teacher and researcher at a premier engineering school, author Tony Hayter is in touch with engineers daily – and understands their vocabulary. The result of this familiarity with the professional community is a clear and readable writing style that readers understand and appreciate, as well as high-interest, relevant examples and data sets that hold readers' attention. A flexible approach to the use of computer tools includes tips for using various software packages as well as computer output (using MINITAB and other programs) that offers practice in interpreting output. Extensive use of examples and data sets illustrates the importance of statistical data collection and analysis for students in a variety of engineering areas as well as for students in physics, chemistry, computing, biology, management, and mathematics.
---
Linear algebra with applications, 7th ed.

Recommending faculty:  Prof. Diocel Harold M. Aquino (ES)

| | |
| --- | --- |
| Author | W. Keith Nicholson |
| Place of Publication | Singapore |
| Date of Publication | c2013 |
| Publisher | McGraw-Hill Ryerson |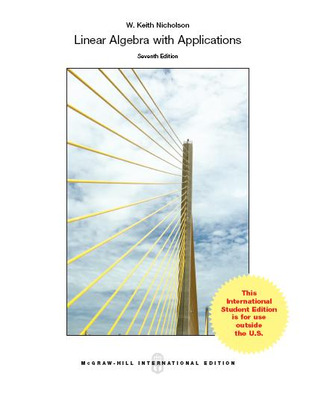 Students of linear algebra learn by studying examples and solving problems – accordingly, the book contains a variety of exercises and solved examples which are used to motivate and illustrate concepts and theorems, carrying the student from concrete to abstract. Chapters 1-4 contain a one-semester course for beginners, and then chapters 5-9 contain a second semester course. Note that the preface contains an updated and helpful guide to assist instructors with different chapter orders depending on their approach to the course
---