NEW CIRCULATION BOOKS
Recommended by Prof. Rhandley Cajote
Sound systems : design and optimization : modern techniques and tools for sound system design and alignment, 2nd ed.
| | |
| --- | --- |
| Author | Bob McCarthy |
| Place of Publication | Oxford |
| Date of Publication | c2010 |
| Publisher | Focal Press/Elsevier |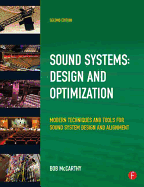 In this guide to sound reinforcement alignment and design, Bob McCarthy shares his expert knowledge and effective methodology from years of teaching audio professionals. Written in a clear and easy-to-read style and illustrated with color diagrams and screenshots throughout, McCarthy's unique guide gives you all the newest techniques to ensure perfect sound reinforcement and fulfill design needs. Outlining how sound is spread over a listening area, looking at the physics of speaker interaction, methods of alignment including mic placement, equalization, speaker placement and acoustic treatment, and now including case studies offering real world examples to fully explore different principals discussed, this book provides the definitive guide to sound reinforcement design and optimization. Totally up to date, the only book devoted exclusively to sound system optimization using modern tools and practices. It is written by award winning expert, providing guidance on the popular tools of the trade, including dual channel FFT analyzers, acoustic prediction programs, modern speaker arrays and digital signal processors. Color images and diagrams throughout aid understanding and clearly illustrate topics within the book.
Recommended for CoE 123
High dynamic range imaging : acquisition, display, and image-based lighting
| | |
| --- | --- |
| Authors | Erik Reinhard … [et al.] |
| Place of Publication | Massachusetts |
| Date of Publication | c2010 |
| Publisher | Morgan Kaufmann/Elsevier |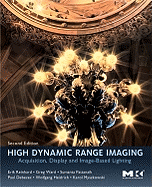 This landmark book is the first to describe HDRI technology in its entirety and covers a wide-range of topics, from capture devices to tone reproduction and image-based lighting. The techniques described enable you to produce images that have a dynamic range much closer to that found in the real world, leading to an unparalleled visual experience. As both an introduction to the field and an authoritative technical reference, it is essential to anyone working with images, whether in computer graphics, film, video, photography, or lighting design. New material includes chapters on High Dynamic Range Video Encoding, High Dynamic Range Image Encoding, and High Dynammic Range Display Devices. It is written by the inventors and initial implementors of High Dynamic Range Imaging. It covers the basic concepts (including just enough about human vision to explain why HDR images are necessary), image capture, image encoding, file formats, display techniques, tone mapping for lower dynamic range display, and the use of HDR images and calculations in 3D rendering. The range and depth of coverage is good for the knowledgeable researcher as well as those who are just starting to learn about High Dynamic Range imaging.
Recommended for EE 274
Audio engineering
| | |
| --- | --- |
| Authors | Douglas Self … [et al.] |
| Place of Publication | Amsterdam |
| Date of Publication | c2009 |
| Publisher | Newnes/Elsevier |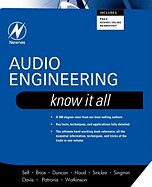 "The Newnes Know It All Series" takes the best of what our authors have written to create hard-working desk references that will be an engineer's first port of call for key information, design techniques and rules of thumb. Guaranteed not to gather dust on a shelf! This is the ultimate hard-working desk reference; all the essential information, techniques and tricks of the trade in one volume.
Recommended for Digital Photography
Perfect digital photography, 2nd ed.
| | |
| --- | --- |
| Authors | Jay Dickman, Jay Kinghorn |
| Place of Publication | New York |
| Date of Publication | c2009 |
| Publisher | McGraw-Hill |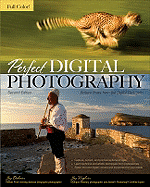 In this completely updated, full-color work, a Pulitzer Prize-winning National Geographic photographer and an Adobe Photoshop Certified Expert guide you through the entire photographic process, from composition to printing and archiving. The expert techniques inside this masterful guide help you greatly improve both the quality of your photographs and your proficiency in the digital darkroom. Perfect Digital Photography, Second Edition covers the latest technologies, including digital SLR cameras, Adobe Photoshop CS4, and Adobe Photoshop Lightroom, and offers tips for developing an efficient workflow. Stunning color photographs throughout the book show you the results that you too can achieve.


Adobe Photoshop CS4 digital classroom
| | |
| --- | --- |
| Authors | Jennifer Smith, Aquent Creative Team |
| Place of Publication | Indianapolis, IN |
| Date of Publication | c2009 |
| Publisher | Wiley |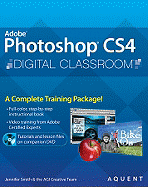 Adobe Photoshop CS4 Digital Classroom is like having a personal instructor guiding readers through each lesson, while they work at their own pace. This book includes 13 self-paced lessons that let readers discover essential skills and explore new features and capabilities of Adobe Photoshop. Every lesson is presented in full color with step-by-step instructions. Learning is reinforced with video tutorials and lesson files on a companion DVD that were developed by the same team of Adobe Certified Instructors and Flash experts who have created many of the official training titles for Adobe Systems. Each video tutorial is approximately five minutes long and demonstrates and explains the concepts and features covered in the lesson. Coverage includes information on Adobe Bridge, Camera RAW, masks and layers, painting and retouching, and selections and layers.


Real world image sharpening with Adobe Photoshop, Camera Raw, and Lightroom, 2nd ed.
| | |
| --- | --- |
| Authors | Bruce Fraser, Jeff Schewe |
| Place of Publication | Berkeley, California |
| Date of Publication | c2010 |
| Publisher | Peachpit Press |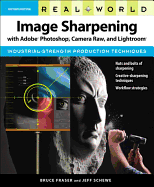 Just about every digital image requires sharpening since softness is inevitably introduced during the image digitizing process, and oftentimes with digital photography, images are sharpened badly. This second edition of the definitive book by the late Bruce Fraser teaches readers all they need to know about sharpening, including when to use it, why it's needed, how to use the camera's features, how to recognize an image that needs sharpening, how much to use, what's bad sharpening, and how to fix oversharpening. Real World Image Sharpening with Adobe Photoshop, Camera Raw, and Lightroom, Second Edition is written by Fraser's friend and renowned photographer Jeff Schewe. It adds essential coverage of Adobe Photoshop Lightroom and Adobe Camera Raw, since many of the key sharpening functions have migrated from Photoshop to those tools since the first edition of the book was published. The book shows readers how to: recognize the kind of sharpening that each image needs; become acquainted with the full arsenal of sharpening tools built into Photoshop, Lightroom, and Camera Raw; sharpen part of an image selectively; create a complete sharpening workflow that allows sharpening images optimally for different uses; balance the contradictory demands of sharpening and noise reduction; and more.