RESERVE BOOKS
Programming languages: principles and practice, 3rd ed.
Recommending faculty: Dr. Susan Festin; Prof. Joy Reyes-Madamba (CS 150, CoE 115, EEE 115)
| | |
| --- | --- |
| Authors | Kenneth C. Louden and Kenneth A. Lambert |
| Place of Publication | Boston, Mass. |
| Date of Publication | 2012 |
| Publisher | Course Technology |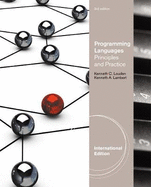 Kenneth Louden and Kenneth Lambert's new edition of Programming Languages: Principles and Practice, 3E gives advanced undergraduate students an overview of programming languages through general principles combined with details about many modern languages. Major languages used in this edition include C, C++, Smalltalk, Java, Ada, ML, Haskell, Scheme, and Prolog; many other languages are discussed more briefly. The text also contains extensive coverage of implementation issues, the theoretical foundations of programming languages, and a large number of exercises, making it the perfect bridge to compiler courses and to the theoretical study of programming languages.

---
GPU computing gems
Recommending faculty: Prof. Joy Reyes-Madamba (EE 300)
| | |
| --- | --- |
| Editor | Wen-Mei W. Hwu |
| Place of Publication | Amsterdam; Burlington, Mass. |
| Date of Publication | c2011 |
| Publisher | Elsevier |
Graphics processing units (GPUs) can do much more than render graphics. Scientists and researchers increasingly look to GPUs to improve the efficiency and performance of computationally-intensive experiments across a range of disciplines.
GPU Computing Gems: Emerald Edition brings their techniques to you, showcasing GPU-based solutions including:
Black hole simulations with CUDA
GPU-accelerated computation and interactive display of molecular orbitals
Temporal data mining for neuroscience
GPU -based parallelization for fast circuit optimization
Fast graph cuts for computer vision
Real-time stereo on GPGPU using progressive multi-resolution adaptive windows
GPU image demosaicing
Tomographic image reconstruction from unordered lines with CUDA
Medical image processing using GPU -accelerated ITK image filters
 41 more chapters of innovative GPU computing ideas, written to be accessible to researchers from any domain
GPU Computing Gems: Emerald Edition is the first volume in Morgan Kaufmann's Applications of GPU Computing Series, offering the latest insights and research in computer vision, electronic design automation, emerging data-intensive applications, life sciences, medical imaging, ray tracing and rendering, scientific simulation, signal and audio processing, statistical modeling, and video / image processing.
---
Computer organization and embedded systems, 6th ed.
(CoE 23, CoE 115, EEE 9, EEE 51, EEE 105)
| | |
| --- | --- |
| Authors | Carl Hamacher … [et. al] |
| Place of Publication | New York, N.Y. |
| Date of Publication | c2012 |
| Publisher | McGraw-Hill |
The sixth edition of this book covers the key topics in computer organization and embedded systems. It presents hardware design principles and shows how hardware design is influenced by the requirements of software. This book is suitable for undergraduate electrical and computer engineering majors and computer science specialists. It is intended for a first course in computer organization and embedded systems.
---
Engineering circuit analysis, 10th ed.
(EEE 3, EEE 33)
| | |
| --- | --- |
| Author | J. David Irwin |
| Place of Publication | Hoboken, N.J. |
| Date of Publication | 2011 |
| Publisher | Wiley |
Engineering Circuit Analysis has long been regarded as the most dependable textbook for students otherwise intimidated by the subject matter. With this new 10th edition, Irwin and Nelms continue to develop the most complete set of pedagogical tools available which provides the highest level of support for students entering into this complex subject.
Irwin and Nelms' trademark student-centered learning design focuses on helping students "complete the connection" between theory and practice. This theme starts with chapter openers that include specific learning objectives for the chapter, around which all chapter content is structured. All key concepts are described in text, illustrated with solved example problems, and then followed by Learning Assessments, which are similar problems with the answer given, but not the solution. Students can then 'complete the connection' by solving an algorithmic variation of that. Further end-of-chapter problems gradually raise the level of complexity. All learning modules include reading quiz questions in WileyPLUS, so faculty can identify gaps in student learning and students can measure their understanding of the material.
---
Real sound synthesis for interactive applications, 2002.
(Recommended by Dr. Rowena Cristina L. Guevara)
| | |
| --- | --- |
| Author | Perry R. Cook |
| Place of Publication | Natick, Mass. |
| Date of Publication | 2002 |
| Publisher | A K Peters |
Virtual environments such as games and animated and "real" movies require realistic sound effects that can be integrated by computer synthesis. The book emphasizes physical modeling of sound and focuses on real-world interactive sound effects. It is intended for game developers, graphics programmers, developers of virtual reality systems and training simulators, and others who want to learn about computational sound. It is written at an introductory level with mathematical foundations provided in appendices.
---
Switchmode power supply handbook, 3rd ed.
(EE 197, EEE 190)
| | |
| --- | --- |
| Author | Keith H. Billings |
| Place of Publication | New York |
| Date of Publication | 2011 |
| Publisher | McGraw-Hill Professional |

Covering the latest developments and techniques, Switchmode Power Supply Handbook, 3rd ed. is a thorough revision of the industry-leading resource for power supply designers. New design methods required for powering small, high-performance electronic devices are presented. Based on the authors' decades of experience, the book is filled with real-world solutions and many nomograms, and features simplified theory and mathematical analysis.
This comprehensive volume explains common requirements for direct operation from the AC line supply and discusses design, theory, and practice. Engineering requirements of switchmode systems and recommendations for active power factor correction are included. This practical guide provides you with a working knowledge of the latest topologies along with step-by-step approaches to component decisions to achieve reliable and cost-effective power supply designs.
Switchmode Power Supply Handbook, 3rd ed. covers:
Functional requirements of direct off-line switchmode power supplies
Power components selection and transformer designs for converter circuits
Transformer, choke, and thermal design
Input filters, RFI control, snubber circuits, and auxiliary systems
Active power factor correction system design
Worked examples of would components
Examples of fully resonant and quasi-resonant systems
A resonant inverter fluorescent ballast
An example of high-power phase shift modulated system
A new MOSFET resonant inverter drive scheme
A single-control, wide-range wave oscillator