CIRCULATION BOOKS
---
Welding : principles and applications, 7th ed.
Recommending faculty: Prof. RJ Compañero (MetE 147)
| | |
| --- | --- |
| Author | Larry Jeffus |
| Place of Publication | Clifton Park, N.Y. |
| Date of Publication | c2012 |
| Publisher | Delmar, Cengage Learning |
Now nearing its 30th year of publication, Welding : Principles and Applications (WP&A), 7th Edition is the authoritative introduction to the subject of welding. It's designed for students in a wide range of academic and workforce training programs who want to pursue careers as skilled welders and welding supervisors. The text also supports the needs of learners who need to achieve a basic level of proficiency in welding in their chosen skilled trade. While covering the procedural and safety information all students need, Welding : Principles and Applications also explains underlying theories. The combination of hands-on information with clear explanations of theory is a hallmark of this book. The depth of coverage allows it to be used as the core text in a multi-course welding curriculum, generally starting with shielded metal arc welding, and then covering other basic processes and more advanced techniques.
---
Welding. Level 3. Trainee guide, 4th ed.
Recommending faculty: Prof. RJ Compañero (MetE 147)
| | |
| --- | --- |
| Authors | National Center for Construction Education and Research |
| Place of Publication | Boston, Mass. |
| Date of Publication | c2010 |
| Publisher | Prentice Hall |
This exceptionally produced trainee guide features a highly illustrated design, technical hints and tips from industry experts, review questions and a whole lot more! Key content includes SMAW – Open-Root Pipe Welds, GMAW – Pipe, FCAW – Pipe, GTAW – Carbon Steel Pipe, GTAW – Low Alloy and Stainless Steel Pipe, and SMAW: Stainless Steel Groove Welds.
---
Experimental methods for engineers, 8th ed.
Recommending faculty: Prof. RJ Compañero (MatE 3, MetE 12)
| | |
| --- | --- |
| Author | J.P. Holman |
| Place of Publication | New York |
| Date of Publication | c2012 |
| Publisher | McGraw-Hill/Connect Learn Succeed |
This text offers a broad range of experimental measurement techniques for mechanical and general engineering applications. The author emphasizes the use of uncertainty analysis and statistical data analysis in the estimation of the accuracy of measurements and has included a separate chapter on report writing and presentations with descriptions of proper technique for graphical, tabular and nomenclature organization. This edition contains enhanced secitons on statistical data analysis and over 100 worked examples and 500 end-of-chapter problems.
---
Probability for engineering, mathematics, and sciences
Recommending faculty: Prof. RJ Compañero (MatE 14, MetE 14)
| | |
| --- | --- |
| Author | Chris P. Tsokos |
| Place of Publication | Boston, Mass. |
| Date of Publication | 2012 |
| Publisher | Brooks/Cole, Cengage Learning |
This book blends theory and applications, reinforcing concepts with practical real-world examples that illustrate the importance of probability to those who will use it in their subsequent courses and careers. The author emphasizes the study of probability distributions that characterize random variables, because this knowledge is essential in performing parametric statistical analysis. Explanations include the "why" as well as the "how" of probability distributions for random variables to help engage readers and further promote their understanding. In addition, the text includes a self-contained chapter on finite Markov chains, which introduces the basic aspects of Markov chains and illustrates their usefulness with several real examples.
---
Digital signal processing using MATLAB for students and researchers
Recommending faculty: Dr. Adrian Valdez
| | |
| --- | --- |
| Author | John W. Leis |
| Place of Publication | Hoboken, N.J. |
| Date of Publication | c2011 |
| Publisher | Wiley |
With its active, hands-on learning approach, this text enables readers to master the underlying principles of digital signal processing and its many applications in industries such as digital television, mobile and broadband communications, and medical/scientific devices. Carefully developed MATLAB® examples throughout the text illustrate the mathematical concepts and use of digital signal processing algorithms. Readers will develop a deeper understanding of how to apply the algorithms by manipulating the codes in the examples to see their effect. Moreover, plenty of exercises help to put knowledge into practice solving real-world signal processing challenges.
Following an introductory chapter, the text explores:
Sampled signals and digital processing
Random signals
Representing signals and systems
Temporal and spatial signal processing
Frequency analysis of signals
Discrete-time filters and recursive filters
Each chapter begins with chapter objectives and an introduction. A summary at the end of each chapter ensures that one has mastered all the key concepts and techniques before progressing in the text. Lastly, appendices listing selected web resources, research papers, and related textbooks enable the investigation of individual topics in greater depth.
Upon completion of this text, readers will understand how to apply key algorithmic techniques to address practical signal processing problems as well as develop their own signal processing algorithms. Moreover, the text provides a solid foundation for evaluating and applying new digital processing signal techniques as they are developed.
---
Introduction to finite element analysis : formulation, verification, and validation
Recommending faculty: Dr. Adrian Valdez
| | |
| --- | --- |
| Authors | Barna Szabo, Ivo Babuska |
| Place of Publication | Hoboken, N.J. |
| Date of Publication | c2011 |
| Publisher | Wiley |
Whenever numerical simulation is employed in connection with engineering decision-making, there is an implied expectation of reliability: one cannot base decisions on computed information without believing that information is reliable enough to support those decisions. Using mathematical models to show the reliability of computer-generated information is an essential part of any modelling effort.
Giving users of finite element analysis (FEA) software an introduction to verification and validation procedures, this book thoroughly covers the fundamentals of assuring reliability in numerical simulation. The renowned authors systematically guide readers through the basic theory and algorithmic structure of the finite element method, using helpful examples and exercises throughout.
Delivers the tools needed to have a working knowledge of the finite element method
Illustrates the concepts and procedures of verification and validation
Explains the process of conceptualization supported by virtual experimentation
Describes the convergence characteristics of the h-, p- and hp-methods
Covers the hierarchic view of mathematical models and finite element spaces
Uses examples and exercises which illustrate the techniques and procedures of quality assurance
Ideal for mechanical and structural engineering students, practicing engineers and applied mathematicians
Includes parameter-controlled examples of solved problems in a companion website (www.wiley.com/go/szabo)
---
Numerical analysis, 9th ed.
Recommending faculty: Dr. Adrian Valdez
| | |
| --- | --- |
| Authors | Richard L. Burden, J. Douglas Faires |
| Place of Publication | Boston, Mass. |
| Date of Publication | c2011 |
| Publisher | Brooks/Cole, Cengage Learning |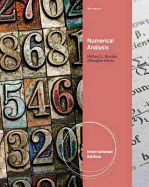 This well-respected text gives an introduction to the theory and application of modern numerical approximation techniques for students taking a one- or two-semester course in numerical analysis. With an accessible treatment that only requires a calculus prerequisite, Burden and Faires explain how, why, and when approximation techniques can be expected to work, and why, in some situations, they fail. A wealth of examples and exercises develop students' intuition, and demonstrate the subject's practical applications to important everyday problems in math, computing, engineering, and physical science disciplines. The first book of its kind built from the ground up to serve a diverse undergraduate audience, three decades later Burden and Faires remains the definitive introduction to a vital and practical subject.
---
Design for embedded image processing on FPGAs
Recommending faculty: Prof. Joy Reyes-Madamba (EEE 198)
| | |
| --- | --- |
| Author | Donald G. Bailey |
| Place of Publication | Singapore |
| Date of Publication | 2011 |
| Publisher | Wiley |
Dr. Donald Bailey starts with introductory material considering the problem of embedded image processing, and how some of the issues may be solved using parallel hardware solutions. Field programmable gate arrays (FPGAs) are introduced as a technology that provides flexible, fine-grained hardware that can readily exploit parallelism within many image processing algorithms. A brief review of FPGA programming languages provides the link between a software mindset normally associated with image processing algorithms, and the hardware mindset required for efficient utilization of a parallel hardware design. The design process for implementing an image processing algorithm on an FPGA is compared with that for a conventional software implementation, with the key differences highlighted. Particular attention is given to the techniques for mapping an algorithm onto an FPGA implementation, considering timing, memory bandwidth and resource constraints, and efficient hardware computational techniques. Extensive coverage is given of a range of low and intermediate level image processing operations, discussing efficient implementations and how these may vary according to the application. The techniques are illustrated with several example applications or case studies from projects or applications he has been involved with. Issues such as interfacing between the FPGA and peripheral devices are covered briefly, as is designing the system in such a way that it can be more readily debugged and tuned.
Provides a bridge between algorithms and hardware
Demonstrates how to avoid many of the potential pitfalls
Offers practical recommendations and solutions
Illustrates several real-world applications and case studies
Allows those with software backgrounds to understand efficient hardware implementation
Design for Embedded Image Processing on FPGAs is ideal for researchers and engineers in the vision or image processing industry, who are looking at smart sensors, machine vision, and robotic vision, as well as FPGA developers and application engineers.
The book can also be used by graduate students studying imaging systems, computer engineering, digital design, circuit design, or computer science. It can also be used as supplementary text for courses in advanced digital design, algorithm and hardware implementation, and digital signal processing and applications.
---
Electronic devices : electron flow version, 9th ed.
Recommending faculty: Prof. Joy Reyes-Madamba (EEE 41, EEE 51)
| | |
| --- | --- |
| Author | Thomas L. Floyd |
| Place of Publication | Boston |
| Date of Publication | c2012 |
| Publisher | Prentice Hall |
Electronic Devices (Electron Flow Version), Ninth Edition, provides a solid foundation in basic analog electronics and a thorough introduction to analog integrated circuits and programmable devices. The text identifies the circuits and components within a system, helping students see how the circuit relates to the overall system function. Full-color photos and illustrations and easy-to-follow worked examples support the text's strong emphasis on real-world application and troubleshooting. Updated throughout, the ninth edition features new GreenTech Applications and a new chapter, "Basic Programming Concepts for Automated Testing."
---
Microelectronics : circuit analysis and design, 4th ed.
Recommending faculty: Prof. Joy Reyes-Madamba (EEE 41, EEE 51, EEE 53)
| | |
| --- | --- |
| Author | Donald A. Neamen |
| Place of Publication | New York |
| Date of Publication | c2010 |
| Publisher | McGraw-Hill |
Microelectronics: Circuit Analysis and Design is intended as a core text in electronics for undergraduate electrical and computer engineering students. The fourth edition continues to provide a foundation for analyzing and designing both analog and digital electronic circuits. The goal has always been to make this book very readable and student friendly. An accessible approach to learning through clear writing and practical pedagogy has become the hallmark of "Microelectronics: Circuit Analysis and Design" by Donald Neamen. Now in its fourth edition, the text builds upon its strong pedagogy and tools for student assessment with key updates as well as revisions that allow for flexible coverage of op-amps.
---
Mechatronics
Recommending faculty: Prof. Siegfred Balon
| | |
| --- | --- |
| Editor | J. Paulo Davim |
| Place of Publication | London |
| Date of Publication | 2011 |
| Publisher | ISTE |
The term Mechatronics is a combination of the words "mechanics" and "electronics". It is the blending of mechanical, electronic, and computer engineering into an integrated design and implementation. Mechatronics systems employ microprocessors and software as well as special-purpose electronics.
The main objective of this interdisciplinary engineering field is the study of automated devices (e.g. robots) from an engineering perspective, thinking about the design of products and manufacturing processes. Today, mechatronics is having a significant and increasing impact on engineering – in the design, development, and operation of engineering systems. Mechatronics systems and products are well established in a great number of industries, such as the aircraft, automotive, computer, electronics, robotics/automation, manufacturing systems, computerized machine tools, communications, and biomedical industries.
This book provides details on recent advances in mechatronics, and can be used as a guidebook for final undergraduate engineering courses (for example, mechanical, electronic, computer engineering) or as a reference to the subject of mechatronics at the postgraduate level. It can also serve as a useful reference for academics, mechatronics researchers, mechanical, electronic and computer engineers, and professionals in areas related to mechatronics and robotics.
---
Electricity for refrigeration, heating, and air conditioning, 8th ed.
Recommending faculty: Prof. Michael Angelo Pedrasa
| | |
| --- | --- |
| Author | Russell E. Smith |
| Place of Publication | Australia |
| Date of Publication | c2011 |
| Publisher | Delmar, Cengage Learning |
Electricity for Refrigeration, Heating, and Air Conditioning Technology, 8th Edition Provides Readers With the Basic electrical principles necessary to understand today's modern control systems. the practical approach taken in this book allows readers to focus exclusively on the electronics information they will use in the field, without bogging them down in unnecessary theory. Electricity for Refrigeration, Heating, and Air Conditioning Technology, 8th Edition places an emphasis on developing systematic diagnosis and troubleshooting methods and procedures that will enable readers to become highly-skilled, professional HCAC-R service technicians. a comprehensive glossary is also included to assist those who are new to the field in understanding and using industry terms.
---
Linear programming, sensitivity analysis, and related topics
Recommending faculty: Prof. Ivan Cruz
| | |
| --- | --- |
| Author | Marie-France Derhy |
| Place of Publication | New York |
| Date of Publication | 2010 |
| Publisher | Prentice Hall |
This book covers all aspects of linear programming from the two-dimensional LPs and their extension to higher dimensional LPs, through duality and sensitivity analysis and finally to the examination of commented software outputs. The book is organised into three distinct parts: the first part studies the concepts of linear programming and presents its founding theorems complete with proofs and applications; the second part presents linear programming in the diversity of its variants (Integer Programming, Game Theory, Transportation Problem, Assignment Model), and highlights the modelling problems that are involved in network optimisation; the final part furthers the discussion on selected topics and presents an opening to nonlinear programming through quadratic programming.