---
RESERVE BOOK
---
Electric circuits, 9th ed.
Recommending faculty: Prof. Manuel Ramos Jr. (EEE 31)
| | |
| --- | --- |
| Authors | James W. Nilsson, Susan A. Riedel |
| Place of Publication | Upper Saddle River, N.J. |
| Date of Publication | 2011 |
| Publisher | Prentice Hall |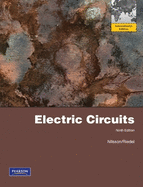 Electric Circuits 9th Edition is the most widely used introductory circuits textbook of the past 25 years. As this book has evolved over the years to meet the changing learning styles of students, importantly, the underlying teaching approaches and philosophies remain unchanged. The goals are:
To build an understanding of concepts and ideas explicitly in terms of previous learning
To emphasize the relationship between conceptual understanding and problem solving approaches
To provide students with a strong foundation of engineering practices.
Features:
Chapter Problems * Practical Perspectives * Assessment Problems * Examples * Fundamental Equations and Concepts * Integration of Computer Tools
Instructors and students benefit greatly from thoughtful methods of assessing student learning. The ninth edition makes PowerPoint presentations available to instructors that include embedded assessment questions. During a lecture, the instructor can present material using PowerPoint, pose a question to the students concerning that material, and allow students to respond to the question. Results from student responses are immediately available to the instructor, providing real time information about the students' comprehension of the material. This immediate feedback allows the instructor go back and revisit material the students did not comprehend, or to continue presenting new material if comprehension is satisfactory.
Every new copy of the book now comes with access to Video Solutions and a Pearson eText. Video solutions are complete, step-by-step solution walkthroughs of representative homework problems. The Pearson etext is a complete on-line version of the book that includes highlighting, note-taking and search capabilities.