---
CIRCULATION BOOKS
---
Computer security fundamentals. 2nd ed.
Recommending faculty: Dr. Susan Pancho-Festin (CS 153, CS 253)

| | |
| --- | --- |
| Author | Chuck Easttom |
| Place of Publication | Indianapolis, Ind. |
| Date of Publication | 2012 |
| Publisher | Pearson |
Welcome to today's most useful and practical one-volume introduction to computer security. Chuck Easttom brings together up-to-the-minute coverage of all basic concepts, terminology, and issues, along with all the skills you need to get started in the field. Drawing on his extensive experience as a security instructor and consultant, Easttom thoroughly covers core topics, such as vulnerability assessment, virus attacks, hacking, spyware, network defense, passwords, firewalls, VPNs, and intrusion detection. Writing clearly and simply, he fully addresses crucial issues that many introductory security books ignore, from industrial espionage to cyberbullying.
Computer Security Fundamentals, Second Edition is packed with tips and examples, all extensively updated for the state-of-the-art in both attacks and defense. Each chapter offers exercises, projects, and review questions designed to deepen your understanding and help you apply all you've learned. Whether you're a student, a system or network administrator, a manager, or a law enforcement professional, this book will help you protect your systems and data and expand your career options.
Learn how to
Identify the worst threats to your network and assess your risks
Get inside the minds of hackers, so you can prevent their attacks
Implement a proven layered approach to network security
Use basic networking knowledge to improve security
Resist the full spectrum of Internet-based scams and frauds
Defend against today's most common Denial of Service (DoS) attacks
Prevent attacks by viruses, spyware, and other malware
Protect against low-tech social engineering attacks
Choose the best encryption methods for your organization
Select firewalls and other security technologies
Implement security policies that will work in your environment
Scan your network for vulnerabilities
Evaluate potential security consultants
Understand cyberterrorism and information warfare
Master basic computer forensics and know what to do after you're attacked
---
Proofs and computations
Recommending faculty: Prof. Wigi Vei Oliveros (CS 30, CS 32, CS 133, CS 135)

| | |
| --- | --- |
| Authors | Helmut Schwichtenberg, Stanley S. Wainer |
| Place of Publication | Ithaca, N.Y., Cambridge |
| Date of Publication | 2012 |
| Publisher | Association for Symbolic Logic, Cambridge University Press |
Driven by the question, 'What is the computational content of a (formal) proof?', this book studies fundamental interactions between proof theory and computability. It provides a unique self-contained text for advanced students and researchers in mathematical logic and computer science. Part I covers basic proof theory, computability and Gödel's theorems. Part II studies and classifies provable recursion in classical systems, from fragments of Peano arithmetic up to Π11-CA0. Ordinal analysis and the (Schwichtenberg-Wainer) subrecursive hierarchies play a central role and are used in proving the 'modified finite Ramsey' and 'extended Kruskal' independence results for PA and Π11-CA0. Part III develops the theoretical underpinnings of the first author's proof assistant MINLOG. Three chapters cover higher-type computability via information systems, a constructive theory TCF of computable functionals, realizability, Dialectica interpretation, computationally significant quantifiers and connectives and polytime complexity in a two-sorted, higher-type arithmetic with linear logic.
---
Embedded systems security : practical methods for safe and secure software and systems development
Recommending faculty: Dr. Adrian Roy L. Valdez (CS 253)

| | |
| --- | --- |
| Authors | David Kleidermacher, Mike Kleidermacher |
| Place of Publication | Amsterdam |
| Date of Publication | 2012 |
| Publisher | Elsevier |
The ultimate resource for making embedded systems reliable, safe, and secure
Embedded Systems Security provides:
A broad understanding of security principles, concerns, and technologies
Proven techniques for the efficient development of safe and secure embedded software
A study of the system architectures, operating systems and hypervisors, networking, storage, and cryptographic issues that must be considered when designing secure embedded systems
Nuggets of practical advice and numerous case studies throughout
Written by leading authorities in the field with 65 years of embedded security experience: one of the original developers of the world's only Common Criteria EAL 6+ security certified software product and a lead designer of NSA certified cryptographic systems.
This book is indispensable for embedded systems and security professionals, new and experienced.
An important contribution to the understanding of the security of embedded systems. The Kleidermachers are experts in their field. As the Internet of things becomes reality, this book helps business and technology management as well as engineers understand the importance of "security from scratch." This book, with its examples and key points, can help bring more secure, robust systems to the market.
Dr. Joerg Borchert, Vice President, Chip Card & Security, Infineon Technologies North America Corp.; President and Chairman, Trusted Computing Group
Embedded Systems Security provides real-world examples of risk and exploitation; most importantly the book offers clear insight into methods used to counter vulnerabilities to build true, native security into technology.
Adriel Desautels, President and CTO, Netragard, LLC.
Security of embedded systems is more important than ever. The growth in networking is just one reason. However, many embedded systems developers have insufficient knowledge of how to achieve security in their systems. David Kleidermacher, a world-renowned expert in this field, shares in this book his knowledge and long experience with other engineers. A very important book at the right time.
Prof. Dr.-Ing. Matthias Sturm, Leipzig University of Applied Sciences; Chairman, Embedded World Conference steering board
Gain an understanding of the operating systems, microprocessors, and network security critical issues that must be considered when designing secure embedded systems
Contains nuggets of practical and simple advice on critical issues highlighted throughout the text
Short and to -the- point real case studies included to demonstrate embedded systems security in practice
---
Using SPSS : an interactive hands-on approach
Recommending faculty: Prof. Reinol Josef D.C. Compañero

| | |
| --- | --- |
| Authors | James B. Cunningham, James O. Aldrich |
| Place of Publication | Thousand Oaks, Calif. |
| Date of Publication | 2012 |
| Publisher | SAGE |
 This practical book can be used as a supplementary text or as a self-help guide through which the reader can learn to use SPSS on their own, and at their own pace. The book uses statistics to teach the use of SPSS, by interacting with the software and learning by inquiry and discovery. Each chapter includes an introduction and list of objectives indicating what the reader will be able to do by the end of the chapter. Bulleted phrases provide step-by-step guidance as readers work through the exercises.
---
Probability and statistics for engineers and scientists. 4th ed.
Recommending faculty: Prof. Reinol Josef D.C. Compañero

| | |
| --- | --- |
| Author | Anthony Hayter |
| Place of Publication | Australia |
| Date of Publication | 2013 |
| Publisher | Brooks/Cole, Cengage Learning |
"Probability And Statistics For Engineers And Scientists, 4/e, International Edition" continues the approach that has made previous editions successful. As a teacher and researcher at a premier engineering school, author Tony Hayter is in touch with engineers daily – and understands their vocabulary. The result of this familiarity with the professional community is a clear and readable writing style that readers understand and appreciate, as well as high-interest, relevant examples and data sets that hold readers' attention. A flexible approach to the use of computer tools includes tips for using various software packages as well as computer output (using MINITAB and other programs) that offers practice in interpreting output. Extensive use of examples and data sets illustrates the importance of statistical data collection and analysis for students in a variety of engineering areas as well as for students in physics, chemistry, computing, biology, management, and mathematics.
---
Statistics : the exploration and analysis of data. 7th ed.
Recommending faculty: Prof. Romarie U. Lorenzo (EEE 25)

| | |
| --- | --- |
| Authors | Roxy Peck, Jay L. Devore |
| Place of Publication | Australia |
| Date of Publication | 2012 |
| Publisher | Brooks/Cole, Cengage Learning |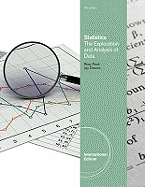 Roxy Peck and Jay Devore's "Statistics: The Exploration & Analysis of Data, 7th edition, International Edition" uses real data and attention-grabbing examples to introduce students to the study of statistics and data analysis. Traditional in structure yet modern in approach, this text guides students through an intuition-based learning process that stresses interpretation and communication of statistical information. Simple notation – including the frequent substitution of words for symbols – helps students grasp concepts and cement their comprehension. Hands-on activities and interactive applets allow students to practice statistics firsthand.
---
Introduction to thermal and fluid engineering
Recommending faculty: Prof. Reinol Josef D.C. Compañero (MetE 197)

| | |
| --- | --- |
| Authors | Allan D. Kraus, James R. Welty, Abdul Aziz |
| Place of Publication | Boca Raton |
| Date of Publication | 2012 |
| Publisher | CRC/Taylor & Francis |
Introduction to Thermal and Fluid Engineering combines coverage of basic thermodynamics, fluid mechanics, and heat transfer for a one- or two-term course for a variety of engineering majors. The book covers fundamental concepts, definitions, and models in the context of engineering examples and case studies. It carefully explains the methods used to evaluate changes in equilibrium, mass, energy, and other measurable properties, most notably temperature. It then also discusses techniques used to assess the effects of those changes on large, multi-component systems in areas ranging from mechanical, civil, and environmental engineering to electrical and computer technologies.
Includes a motivational student study guide on CD to promote successful evaluation of energy systems
This material helps readers optimize problem solving using practices to determine equilibrium limits and entropy, as well as track energy forms and rates of progress for processes in both closed and open thermodynamic systems. Presenting a variety of system examples, tables, and charts to reinforce understanding, the book includes coverage of:
How automobile and aircraft engines work
Construction of steam power plants and refrigeration systems
Gas and vapor power processes and systems
Application of fluid statics, buoyancy, and stability, and the flow of fluids in pipes and machinery
Heat transfer and thermal control of electronic components
Keeping sight of the difference between system synthesis and analysis, this book contains numerous design problems. It would be useful for an intensive course geared toward readers who know basic physics and mathematics through ordinary differential equations but might not concentrate on thermal/fluids science much further. Written by experts in diverse fields ranging from mechanical, chemical, and electrical engineering to applied mathematics, this book is based on the assertion that engineers from all walks absolutely must understand energy processes and be able to quantify them.
---
Linear algebra with applications. 7th ed.
Recommending faculty: Dr. Susan Pancho-Festin (CS 130)

| | |
| --- | --- |
| Author | Gareth Williams |
| Place of Publication | Boston |
| Date of Publication | 2011 |
| Publisher | Jones and Bartlett |
 Building upon the sequence of topics of the popular 5th Edition, Linear Algebra with Applications, Alternate Seventh Edition provides instructors with an alternative presentation of course material. In this edition earlier chapters cover systems of linear equations, matrices, and determinates. The vector space Rn is introduced in chapter 4, leading directly into general vector spaces and linear transformations. This order of topics is ideal for those preparing to use linear equations and matrices in their own fields. New exercises and modern, real-world applications allow students to test themselves on relevant key material and a MATLAB manual, included as an appendix, provides 29 sections of computational problems.
---
Graph algorithms. 2nd ed.
Recommending faculty: Dr. Adrian Roy L. Valdez (CS 135, CS 210)

| | |
| --- | --- |
| Authors | Shimon Even |
| Place of Publication | New York |
| Date of Publication | 2012 |
| Publisher | Cambridge University Press |
 Shimon Even's Graph Algorithms, published in 1979, was a seminal introductory book on algorithms read by everyone engaged in the field. This thoroughly revised second edition, with a foreword by Richard M. Karp and notes by Andrew V. Goldberg, continues the exceptional presentation from the first edition and explains algorithms in a formal but simple language with a direct and intuitive presentation. The book begins by covering basic material, including graphs and shortest paths, trees, depth-first-search, and breadth-first search. The main part of the book is devoted to network flows and applications of network flows, and it ends with chapters on planar graphs and testing graph planarity.
---
Cluster analysis. 5th ed.
Recommending faculty: Dr. Adrian Roy L. Valdez (CS 283)

| | |
| --- | --- |
| Authors | Brian S. Everitt, et. al. |
| Place of Publication | Chichester, West Sussex, U.K. |
| Date of Publication | 2011 |
| Publisher | Wiley |
Cluster analysis comprises a range of methods for classifying multivariate data into subgroups. By organizing multivariate data into such subgroups, clustering can help reveal the characteristics of any structure or patterns present. These techniques have proven useful in a wide range of areas such as medicine, psychology, market research and bioinformatics.This fifth edition of the highly successful Cluster Analysis includes coverage of the latest developments in the field and a new chapter dealing with finite mixture models for structured data.
Real life examples are used throughout to demonstrate the application of the theory, and figures are used extensively to illustrate graphical techniques. The book is comprehensive yet relatively non-mathematical, focusing on the practical aspects of cluster analysis.Key Features:• Presents a comprehensive guide to clustering techniques, with focus on the practical aspects of cluster analysis.
• Provides a thorough revision of the fourth edition, including new developments in clustering longitudinal data and examples from bioinformatics and gene studies
• Updates the chapter on mixture models to include recent developments and presents a new chapter on mixture modeling for structured data.Practitioners and researchers working in cluster analysis and data analysis will benefit from this book.
---
Introduction to probability and statistics. 14th ed.
Recommending faculty: Prof. Reinol Josef D.C. Compañero

| | |
| --- | --- |
| Authors | William Mendenhall, Robert J. Beaver, Barbara M. Beaver |
| Place of Publication | Australia |
| Date of Publication | 2013 |
| Publisher | Brooks/Cole, Cengage Learning |
Used by hundreds of thousands of students, "Introduction To Probability And Statistics, 14/e, International Edition" blends proven coverage with new innovations to ensure you gain a solid understanding of statistical concepts – and see their relevance to your everyday life. The new edition retains the text's straightforward presentation and traditional outline for descriptive and inferential statistics while incorporating modern technology – including computational software and interactive visual tools – to help you master statistical reasoning and skillfully interpret statistical results. Drawing from decades of classroom teaching experience, the authors clearly illustrate how to apply statistical procedures as they explain how to describe real sets of data, what statistical tests mean in terms of practical application, how to evaluate the validity of the assumptions behind statistical tests, and what to do when statistical assumptions have been violated. Statistics can be an intimidating course, but with this text you will be well prepared. With its thorough explanations, insightful examples, practical exercises, and innovative technology features, this text equips you with a firm foundation in statistical concepts, as well as the tools to apply them to the world around you.
---
A student's guide to coding and information theory
Recommending faculty:Dr. Susan Pancho-Festin, Dr. Adrian Roy L. Valdez (CS 153, CS 213)

| | |
| --- | --- |
| Authors | Stefan M. Moser, Po-Ning Chen |
| Place of Publication | New York |
| Date of Publication | 2012 |
| Publisher | Cambridge University Press |
This easy-to-read guide provides a concise introduction to the engineering background of modern communication systems, from mobile phones to data compression and storage. Background mathematics and specific engineering techniques are kept to a minimum so that only a basic knowledge of high-school mathematics is needed to understand the material covered. The authors begin with many practical applications in coding, including the repetition code, the Hamming code and the Huffman code. They then explain the corresponding information theory, from entropy and mutual information to channel capacity and the information transmission theorem. Finally, they provide insights into the connections between coding theory and other fields. Many worked examples are given throughout the book, using practical applications to illustrate theoretical definitions. Exercises are also included, enabling readers to double-check what they have learned and gain glimpses into more advanced topics, making this perfect for anyone who needs a quick introduction to the subject.
---
Contemporary communication systems
Recommending faculty: Prof. Romarie U. Lorenzo (EEE 107)

| | |
| --- | --- |
| Author | M F Mesiya |
| Place of Publication | New York |
| Date of Publication | 2013 |
| Publisher | McGraw-Hill |
"Contemporary Communication Systems" provides a comprehensive introduction to analog and digital communication systems. In addition to a logical and easy-to-understand presentation of fundamental principles, the book engages students in the issues relevant to system and product implementation by integrating a discussion of theoretical concepts with extensive hands-on visual and simulation resources that reinforce learning. A unique feature of the book is sufficient coverage of important topics in digital communications including compression, multiplexing and synchronization techniques. The book also explores the impact of semiconductor revolution (Moore's law) and software technologies in the realization of modern digital communication systems.
---
Power system analysis : short-circuit load flow and harmonics. 2nd ed.
Recommending faculty: Dr. Allan Nerves (EE 152)

| | |
| --- | --- |
| Author | J.C. Das |
| Place of Publication | Boca Raton, Fla. |
| Date of Publication | 2012 |
| Publisher | CRC Press |
Fundamental to the planning, design, and operating stages of any electrical engineering endeavor, power system analysis continues to be shaped by dramatic advances and improvements that reflect today's changing energy needs. Highlighting the latest directions in the field, Power System Analysis: Short-Circuit Load Flow and Harmonics, Second Edition includes investigations into arc flash hazard analysis and its migration in electrical systems, as well as wind power generation and its integration into utility systems.
Designed to illustrate the practical application of power system analysis to real-world problems, this book provides detailed descriptions and models of major electrical equipment, such as transformers, generators, motors, transmission lines, and power cables. With 22 chapters and 7 appendices that feature new figures and mathematical equations, coverage includes:
Short-circuit analyses, symmetrical components, unsymmetrical faults, and matrix methods
Rating structures of breakers
Current interruption in AC circuits, and short-circuiting of rotating machines
Calculations according to the new IEC and ANSI/IEEE standards and methodologies
Load flow, transmission lines and cables, and reactive power flow and control
Techniques of optimization, FACT controllers, three-phase load flow, and optimal power flow
A step-by-step guide to harmonic generation and related analyses, effects, limits, and mitigation, as well as new converter topologies and practical harmonic passive filter designs—with examples
More than 2000 equations and figures, as well as solved examples, cases studies, problems, and references
Maintaining the structure, organization, and simplified language of the first edition, longtime power system engineer J.C. Das seamlessly melds coverage of theory and practical applications to explore the most commonly required short-circuit, load-flow, and harmonic analyses. This book requires only a beginning knowledge of the per-unit system, electrical circuits and machinery, and matrices, and it offers significant updates and additional information, enhancing technical content and presentation of subject matter. As an instructional tool for computer simulation, it uses numerous examples and problems to present new insights while making readers comfortable with procedure and methodology.